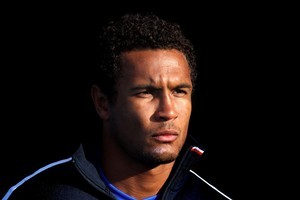 Thirty-eight.
Sport is distinguished by its numbers.
No self-respecting cricket follower misses the significance of 99.94 - Don Bradman's never-to-be matched test batting average.
Just as baseball has its 61, marking Roger Maris' home-run record of 1961 for the New York Yankees which beat Babe Ruth's 37-year-old mark - and since drowned in the steroid age.
Not to forget athletics and Roger Bannister's "three ..." at Iffley Rd, Oxford, in 1954, the first athlete to do a mile in less than four minutes. The crowd drowned out the announcer after the first word.
Four years ago, Thierry Dusautoir managed 38 tackles in leading France to a remarkable 20-18 World Cup quarter-final defeat of the All Blacks in Cardiff.
It is a number which is attaining folklore status. In the four years since, Dusautoir, now France's leader, has grown in stature, in many respects the face of the game in that country.
Tonight he plays his 48th test against Wales, searching for his first World Cup final.
He had admirers worldwide for his talent. His defence is strong and surehanded; his ability as a support player significant (most recently it was his surge towards the English line which ultimately set up France's second try for Maxime Medard in last weekend's quarter-final) and his is a quiet kind of authority.
He does not appeal as a "shout it from the rooftops" leader; the demeanour is more the "follow me" variety.
Asked yesterday what he would be telling his players in the hours, and minutes, before kickoff tonight, Dusautoir wasn't buying it.
"I'll be keeping words for each individual's ears," he said solemnly.
Dusautoir's back story is fascinating. Born in the Ivory Coast capital, Abidjan, of an Ivorian mother and French father, he arrived in the Dordogne region of southwest France with his family at 10.
His mother, Kekane, positively discouraged young Thierry from playing rugby after seeing Max Brito become a quadriplegic playing for the Ivory Coast in the 1995 tournament.
The son, evidently a bright and outgoing child in Africa, became quieter, more self-contained in France and took up judo before secretly starting rugby at 16. It took seven years for his mother to watch him play.
Judo, with its emphasis on footwork and weight distribution, certainly helped Dusautoir's tackling technique. His upper-body strength hasn't hurt either.
Dusautoir's is not a blitzkrieg approach to tackling, more a measured assessment, a sizing up of the target and doing the business before moving on to the next location.
Those 38 tackles that night in Cardiff, his eighth test, left Dusautoir exhausted. "I had to rest completely for three days."
His exhaustion might have been of a different variety a fortnight ago as France's campaign was seriously wobbling after a horror loss to Tonga in their final pool game in Wellington.
Sources close to the French camp say the loss to Tonga - a woefully inept display, lacking any spirit - hit Dusautoir hard.
Coach Marc Lievremont got a senior group of players, the likes of fellow loose forwards Julien Bonnaire, Imanol Harinordoquy, locks Lionel Nallet and Pascal Pape and halfback Dimitri Yachvili and told them they had to take some of the strain off the skipper, and remember what he had done over the past four years for the cause.
A galvanised France bounced back with a powerful first half against England to get them to tonight's showdown.
There are strong personalities in the French team, some with critical roles in on-field leadership. But there's only one boss and at 29 Dusautoir is at his peak.
"He's a very motivational person," said first five-eighths Morgan Parra. "I think we are all leaders in our own clubs but he reminds us all what needs to be done at training, outside training.
"He leads by example with his defensive qualities."
For assistant coach and fine former test back Emile Ntamack, the respect of the players is obvious.
"He is a serious man, always the first to practice. He works a lot of his communication with his players, but as a captain the first quality is to be sure you can play in the team every time. This is our captain," he said.
For an opposition perspective, try Sam Warburton, who will lead Wales out alongside Dusautoir on to Eden Park tonight.
"He's one of the players I've looked up to when I was a youngster," the six-years-younger Warburton said. "So it's good I've got another opportunity to play against him."
A qualified engineer with a love of flying, Dusautoir spoke yesterday of the need to "seize this opportunity". Wales had been outstanding throughout the tournament and "the bar has been raised very high".
In which case you'd struggle to find a better man to lead the charge tonight.
Best moments
France 30 Australia 24
Semifinal, Sydney, 1987
A thrilling game at the hugely underwhelming Concorde Oval in suburban Sydney.
It was decided at the death with a try by Serge Blanco in the left-hand corner after an irresistible French surge. They outscored their hosts four tries to two.
France 43New Zealand 31
Semifinal, Twickenham, 1999
The magic half-hour, if you're French; the nightmare if you hail from this neck of the woods.
The All Blacks were seemingly cruising along at 24-10 up early in the second half. That was when the French hurricane hit.
Three converted tries, a couple of dropped goals by Christophe Lamaison and the game had been ripped away. Hooker Anton Oliver described the feeling as like being "mugged".
France 20 New Zealand 18
Quarter-final, Cardiff, 2007
Could lightning strike twice in eight years? You bet.
Once again the All Blacks seemed to have this game in hand when leading 13-3 at halftime. Once again, they let slip a glorious chance to progress.
The French scored two tries and didn't concede a penalty in the second half, according to English referee Wayne Barnes.
The All Blacks lost both No 10s to injury and were tactically naive that night.
Worst moments
England 19 France 10
Quarter-final, Paris, 1991
Perhaps French rugby's darkest hour, when their coach, Daniel Dubroca, attacked New Zealand referee Dave Bishop in the Parc des Princes tunnel after the match.
A nasty match, which French centre Philippe Sella described at the time as "the most violent game I've been involved in".
England 14 France 9
Semifinal, Paris, 2007
Four years earlier, the outcome had been the same, at the same stage of the cup, Jonny Wilkinson kicking all 24 points in a comprehensive win in Sydney.
This was different, and this was on home soil. As No 8 Imanol Harinordoquy said this week, the camp had "issues" in the leadup.
"We had already won the match before we had even played it," Harinordoquy said. Again, Wilkinson had his kicking boots on. A third final appearance would have to wait.
Tonga 19 France 14
Pool game, Wellington, 2011
Their nadir at the present tournament and one of France's all-time most embarrassing results.
Having lost to the All Blacks a week earlier, it still seemed a straightforward business to get back to winning ways.
Tonga, however, threw themselves into the contest and France were seriously short on desire. Only a last-second try to Vincent Clerc got them that close.