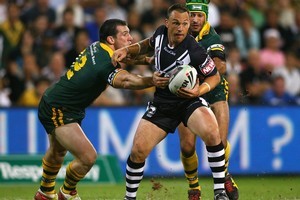 About this time last year the Herald received a phone call from a rather concerned Kiwis media officer.
Lance Hohaia had just confessed that a story he had told a reporter about the Kiwis wanting to beat Australia to honour a retiring player was in fact - how to put it? - a complete load of cobblers.
Hohaia was out for revenge after Nathan Fien had somewhat jumped the gun by announcing the Kiwis fullback's engagement on live television earlier in the week.
Thankfully Hohaia came to his senses and retracted the story before it entered the news loop. A year on, Hohaia is resting and rehabilitating ahead of his move to St Helens. The evergreen Fien is back in Kiwis camp - and still no closer to retirement.
The second-most-capped Kiwi in the side to face Australia tomorrow (Fien has 19 caps, Benji Marshall 21), the 32-year-old Fien has in fact recently signed a two-year extension with the Dragons. And while many players like to ease their way out of the representative duties to preserve their club careers, Fien hasn't contemplated international retirement.
"I haven't really thought about it," he said. "I've always said if I'm fit and playing well enough to play in the team then I'll do it. There are no thoughts of retirement at this stage. The body feels great."
The presence of Fien's wise old head is a major plus for a Kiwis side that is without around 14 front-line regulars through injury and unavailability.
Fien will always be a figure of controversy after the 2006 grannygate affair, however his loyalty to the Kiwis shirt can certainly never be questioned. Since qualifying on residency grounds he has always been available for selection, even after relocating to Australia to join the Dragons in 2009.
That Fien is still occasionally dogged by his premature start for the Kiwis seems a rather thankless reward for his efforts. However, with Rangi Chase choosing to play for England and six-test Fijiian Akuila Uate switching to Australia on "compassionate grounds" (ie, he could earn more money, which his family needs), the issue of eligibility isn't just going to go away.
Fien found that out on the morning of last year's final when a Queensland newspaper ran a story with the legendary Tommy Raudonikis questioning how somebody raised in Mt Isa could play for the Kiwis.
Fien responded by scoring the winning try but he admits the continued focus on his eligibility irks him.
"Look, it probably does but I try not to worry about it,' he said. "At the end of the day I've opted to play for New Zealand and never once have I swayed or thought 'I've made the wrong decision here'. I feel so at home in this group of players. They have been so welcoming since day one.
"After that game it was pretty satisfying, scoring the winning try, but more being part of achieving what we did again. Everyone has their personal reasons and their own stories. It has just made me who I am. Never once have I doubted my decision to play for New Zealand.
"That stuff happens, you've just got to get on with it. I've played some of my best footy in the black jersey."