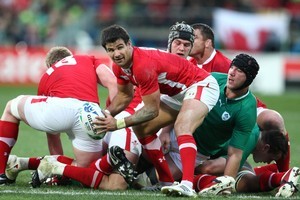 Auckland is set to be swamped by a sea of red - and a Tom Jones impersonator - as Welsh fans descend on the city for their team's historic Rugby World Cup semifinal on Saturday.
Irish and Scottish fans have been the more visible of the Celt supporters in Auckland during the tournament, but Wales' electric run into the semifinals is set to change that.
The Parnell Business Association has bought extra bunting and Welsh flags in preparation for the week ahead and hopes to host a street parade for the team.
Marketing manager Kelly O'Shannessey expected the village to be humming in the lead-up to Saturday's match against the French.
"We're looking at getting a Tom Jones impersonator up. We're going full out for Wales."
Joanna Howard, owner of the Southern Hemisphere's only Welsh pub, Wellington's The Welsh Dragon, was still recovering from the weekend's celebrations when the Herald spoke to her yesterday.
"It's what we dreamed of. I can't believe it. The place was rocking. I thought the roof was going to take off at one point with the singing, it was grand."
BBC Wales had been broadcasting from the bar and restaurant during the week and the team had visited earlier in the tournament.
"They really gave a lot of credit to [New Zealander and Wales coach] Warren Gatland, which I thought was nice."
Mrs Howard, who emigrated to New Zealand with her husband Mike in 1988, said many Welsh fans had already changed their tickets in order to stay for the finals.
As for fans planning last-minute trips from Wales: "It's happening now.
"We know people who are going to come soon, and people have arrived already, this past weekend."
But not all Welsh supporters can accommodate their team's surge into the semifinals.
Terry Bryer, 68, and David Williams, 63, will fly home today to Denbigh in northwest Wales after a month touring New Zealand.
"It's not the fact that we didn't expect them to do well, it's just how it panned out. We've been saving for about three years," explained Mr Bryer.
The friends attended the Welsh team's 22-10 victory over Ireland in Wellington last Saturday and described it as "one of the best days of our lives".
The passionate Llanelli Scarlets supporters have travelled all over New Zealand squeezed into a campervan with another friend and said a dream final would be All Blacks v Wales.
"It would be great, because we admire the way you play rugby. And we've not beaten you since 1953, so it's about time we redressed the balance really."