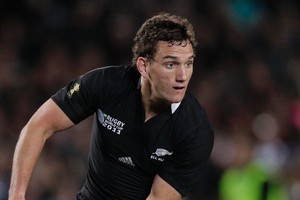 New All Black Aaron Cruden knows all about the Wallabies. That education began and ended in Sydney just over a year ago when he made his only international start.
He is set to double that tally on Sunday against the same rivals under the scorching sudden-death environment of a World Cup semifinal.
The All Black five-eighths was pulled away from his skateboard fun 10 days ago to back up Colin Slade when Daniel Carter's campaign hit an injury blockade.
Now Slade is heading out of the tournament with a groin injury and Cruden will be asked to wear the No10 jersey at Eden Park against Australia.
It is a startling shift for Cruden and probably the All Black staff, who added five-eighths Stephen Donald and wing Hosea Gear to their ranks yesterday for Slade and fullback Mils Muliaina.
The seasoned Muliaina fractured a bone in his left shoulder halfway through the quarter-final win against Argentina which doubled as his 100th test. X-rays revealed the problem yesterday and he and Slade have to leave the squad today.
"Have we got the depth? I guess we will find out in the next few weeks, we'll find out on Saturday [sic]," coach Graham Henry said of the casualty list.
Cruden certainly looked as though he was now the premier five-eighths in the squad.
"Where we are lucky are the guys who are coming in have played test match football and have played test match football in recent times and have been with this group over the last 12 months.
"So them coming in to this environment is not out of their control, if you know what I mean. They have been here, they know the players, they know the environment we live in and the type of rugby we are trying to play, generally speaking.
"Just keeping Aaron Cruden off his skateboard has been a major thing. Like last week he was skateboarding round Palmerston North, having a coupla beers and watching us play.
"Now he is the number one10 in the country and that's a big change, obviously, and a major challenge for him and I thought he handled the situation particularly well at the weekend when he went on."
The 22-times capped Donald was part of a group of players contracted to stay in New Zealand until after the World Cup when he will take up his new deal with Bath.
He was whitebaiting when Henry rang him in the Waikato and the coach joked that one of the extra selection criteria was to bring several kilos of the delicacy into camp.
Circumstances change. When Henry was quizzed after Carter's injury whether Donald had been considered as a replacement, the coach waved that suggestion away. Now he has reappraised that concept.
Henry did not consider the five-eighths injury list as a hoodoo, it was part of rugby, one of those things and all sides had to deal with those mini-crises.
"That is the reality and we have to handle it well," he said.
The All Blacks had played a great deal of rugby this year but they were in good shape up here, he said, tapping his head. The bulk of the preparation for Sunday's semifinal was getting the players in the right space to be at their peak.
Weepu had shown real form at halfback and was better there in a backline mix, rather than being pitched into helping out the five-eighths drama.
Outside backs Israel Dagg and Richard Kahui were both fit after missing the quarter-final, captain Richie McCaw was not suffering any further foot problems and Dr Deb Robinson said, there were no plans yet for him to have surgery after the tournament.
Prop Ben Franks was also improving after missing the quarter-final because of vomiting and diarrhoea.