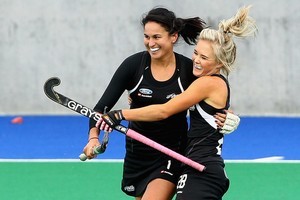 NZ (women) 4
Australia 2
Australia 6
NZ (men) 1
The Black Sticks had mixed fortunes in Hobart yesterday.
The women upset predictions to snatch the Oceania Cup with their first series win over Australia in 25 years but the men, who needed only a draw or a loss by no more than two goals to claim the honours, stumbled to a humiliating defeat to hand the spoils to the world champion Kookaburras.
After losing the first test 2-1 and drawing Saturday's second 3-3, Mark Hager's women needed to win by two goals to take the series. They began strongly with Sam Harrison getting the final touch to an eighth-minute penalty corner to claim the early lead.
That lead lasted only seven minutes when the Hockeyroos responded from a penalty corner which Jodie Schultz dragged high into Sally Rutherford's goal. The home side had a chance to take the lead four minutes later but fired their second penalty corner wide.
Player of the match New Zealand captain Kayla Sharland put her team back in front in the 23rd minute as she capitalised on a flat-footed Australia defence to rifle home a stunning reverse stick shot.
Just as it appeared they would take that one-goal lead to the break, the Black Sticks, a player down, were caught out in stoppage time as Claire Messent scored.
The second half was keenly contested but the crucial breakthrough came in the 59th minute when, from their fourth penalty corner, Clarissa Eshuis dragged the ball home. Six minutes later they sealed the deal. Stacey Michelsen raced clear, played a good ball in and Katie Glynn provided the final touch.
It was not all over, however, as the Black Sticks were forced to play the last five minutes with just nine players after two late yellow cards.
It was the first time the women had won a three-test series with the Australians and their first win since 1978, when they won a two-test series in Australia.
"I was thrilled with the players' commitment throughout," said an ecstatic Hager. "I felt they stuck to the game plan even when under intense pressure. They never gave up, which was really pleasing. It is a great way to finish the year and consolidate our world ranking."
There were no such heroics from Shane McLeod's men; they got what many had expected.
The world's top-ranked side - rocked 3-0 in the opener and held 3-3 in Saturday's second test - came to play.
Eddie Ockenden opened the scoring from the field before Simon Orchard converted a hotly disputed stroke. Kieran Glovers completed the first half scoring with his 16th-minute goal from a penalty corner.
The second half belonged to Glenn Turner. He scored a hat-trick as the hosts raced to 6-0 with more than 10 minutes to play.
Captain Phil Burrows got a consolation goal for the Black Sticks when he scored with a stroke.