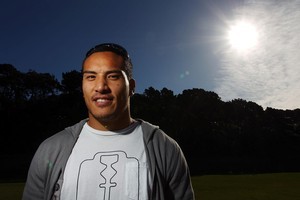 Each Monday, we bring you the best and the worst of the previous week's Rugby World Cup action.
Today: The classiest loser, flapping Ash Splash and a crucial call from a busy assistant referee.
Good Buggers
Brian O'Driscoll
For showing real class in defeat.
It's hard to imagine how bereft you must have felt as time ticked down and it was obvious there was going to be no more World Cup glory for you. Probably about as miserable as you felt when the medics told you your stint as Lions' captain in 2005 was over virtually before it had begun.
This one might have even stung a bit more; such was the expectation on Ireland once you had qualified first out of a difficult pool.
But someone who's won 117 caps knows when he's been beaten by a better team, that's why there were no histrionics at the final whistle, just a bow of the head, a tuck of your mouthguard into your socks and a handshake and congratulations to every Welsh player.
Your class, on and off the pitch, will be missed.
Hosea Gear
Last seen at home, helping partner Kate look after their newborn twins Micah and Kaden-Ray and 5-year-old daughter Kaliyah, while keeping in shape in case he is called up for the World Cup.
By contrast: Zac Guildford, recently seen fronting a press conference to acknowledge a binge-drinking session after his lamentable performance in the Tri-Nations final at Brisbane; Cory Jane and Israel Dagg, very, very recently spotted leering it up at a Takapuna watering hole just days before a World Cup quarter-final.
Honesty call, Graham, are you absolutely, 100 per cent sure you got your wing selections spot on?
If you are, you join a club of three.
Craig Joubert and Steve Walsh
Two cracking games to kick off the quarter-final weekend, in large part due to the even-handed officiating of Joubert and Walsh.
This column has long thought Joubert was the pick of a mixed bunch and nothing he did on Saturday contradicted that notion.
Walsh can be mercurial, but he's in a good place at the moment.
His handling of the second half highlighted the vicissitudes of sport. Four years ago, when France were first chasing then clinging on to a lead in a quarter-final, they did not concede a single penalty (well, not in Wayne Barnes' eyes at least) in the second half. This year, clinging to a lead, they couldn't stop giving them away. England on the other hand, went unsanctioned in the second spell until the final minute.
We're picking France will not be complaining as much about the lop-sided count as a team dressed in battleship-grey were four years ago.
Bad Buggers
Chris Ashton
Until Saturday night your contribution to the tournament had been enigmatic. There'd been a few "Ash Splashes", as one of your teammates called them, when you finished off English try-scoring forays, but they tended towards the bog-standard wing opportunism rather than any great form. Still, a match-winning try is important in anyone's language, so the effort against Scotland is to be congratulated.
Then there was the vile accusations of you and your hilarious mates James Haskell and Dylan Hartley filming yourselves making lecherous comments to a hotel worker in Dunedin.
So your World Cup had the chance to get better if you finally demonstrated what all the on-field fuss was about during the quarter-final against France. So what was your contribution to the match? One half-break down the left-hand touch and more arm-waving in an 80-minute spell than a New York City traffic pointsman. If you had feathers on your arms you would have taken off.
Wellingtonians?
Tickets for the annual sevens rugby showcase are usually snapped up and sold out within about three minutes.
So why was the crowd for Saturday night's Celtic Clash pockmarked by empty yellow seats?
The question mark next to your good name indicates that we are not certain you are to blame and we'd welcome any explanation. Is it the fact you've had to watch some dreadful rugby on this ground since the start of the year and are fatigued by failure? Is it simply too expensive? Is it because the circular shape of the ground offers a pretty ordinary spectator experience?
Let us know, because at the moment we're stumped. Has the nation's apathy title shifted south?
As for the idiots who thought it would be funny to deface the excellent rugby photographic display on the Wellington waterfront, give yourselves an uppercut.
Romain Poite
The Boks v Wallabies encounter was a game of few penalties. The only law being applied at the breakdown appeared to be that of the jungle.
So it was a bit sad to see the quarter-final ultimately decided by a touchie's flag. Did Danie Rossouw take Radike Samo's legs from him? Possibly, but far worse things have happened at sea.