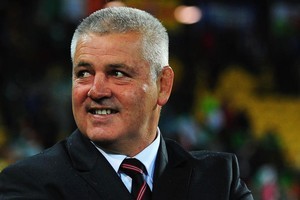 Warren Gatland couldn't resist it. As sly digs go, this would have made those Seventies wrestlers wince. The Welsh nation, declared the jubilant coach, should be very proud of their players. Not just on the pitch, but off it. Fine young ambassadors, these boys.
England, of course, cannot be proud of their players. Gatland, just like everyone else, knew this would apply both on the pitch and off it. They were ambassadors, but only of the type England could quite do without.
Granted, there were honourable exceptions. But, as a group, England's World Cup stank from start to finish. From their unprofessional night-time antics to their unprofessional match-time antics, ill-discipline reigned everywhere England went. One is inextricably linked to the other and if you don't understand that then you've never followed England in the soccer World Cup. And so starts the recrimination. Oh joy.
Wales have experienced their own negative publicity during the Gatland era. Drunk back-rowers driving golf buggies along the motorway shoulder, coaches punching other coaches, players fighting with nightclub bouncers ... and all that before we even mention Gavin Henson. But through it all, Gatland remained adamant that the professionalism he introduced would eventually prevail and would do so because of the players themselves.
In Sam Warburton, Dan Lydiate, Toby Faletau, George North, Leigh Halfpenny, Jamie Roberts, Rhys Priestland and others, Gatland discovered a new breed of rugby player, untainted by the old clubhouse nonsense of the amateur era. In the wake of England's negative headlines Warburton, the 22-year-old captain, revealed the squad were off the booze. Not completely and not because of a stern Gatland edict, but because they realised the possibilities could lead to permanent euphoria, could establish them as legends before they had even peaked. This is what beckons them. So long Barry John, Phil Bennett, Gareth Edwards and JPR Williams. There is no longer need to take consolation in your rich nostalgia.
Without reverting to the deeply naff, it is impossible to predict what it would mean to Wales if - dare we say it - they won this World Cup. Yes, the generalisation of rugby union in England being a rich man's sport is lazy and erroneous. Go into a pub in Gloucestershire, Leicestershire, Northamptonshire and so many other shires and inform them they are all posh boys. But it cannot be argued that rugby union in Wales is the game of the people. Indeed, it is so much more than that.
The Welsh nationalists will vehemently disagree, but more so than the language, rugby gives the country its identity.
Only one in five in Wales speaks Welsh. So many more speak rugby. They will talk it all week, about the parties they will hold if the dream comes true. Sport dangles this feel-good aura and certain prime ministers - and economists - will testify to the influence such a collective outburst of positive patriotic emotion can reap.
Already the great sense of Welshness will be as pronounced as it ever has been as they celebrate being the last home nation standing for the first time since the original World Cup. Goodness knows what will happen if they make the final. At the very least, Max Boyce should eke out another decade of employment.
The English should not, and won't, turn off. The RFU should most definitely stay tuned. There is a lesson to be learned from the manner in which the Dragonhood has been reinvented in the past four years.
Remember how shambolically they exited against Fiji in France? Wales' rebellious class of 2007 made this England outfit seem well-oiled (and no, not in the sense they are being described as now).
In the wreckage of that disgrace, the Welsh Rugby Union, to their credit, acted swiftly and decisively, and in Gatland found a man unfazed by the challenge.
Whatever else he is to achieve in the forthcoming fortnight, the smirking All Black can congratulate himself on a staggering turnaround. It only proves the importance of calling in the professionals.
- Independent