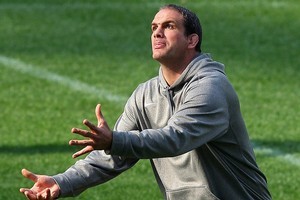 England's newspapers have pulled no punches following the team's quarter-final loss to France, but coach Martin Johnson's job is safe - for now.
The Sunday Times said "Au Revoir ... to England's World Chumps", and "Time's Up Jonno". The newspaper's rugby correspondent Stephen Jones wrote: "Dear God, that was awful".
The Independent on Sunday chose to lead with Wales' success rather than England's failure, with a picture of Wales' halfback Mike Phillips scoring his crucial try in the corner against Ireland.
But last night (Saturday) Johnson refused to talk about his future following the 19-12 loss at Eden Park and today he fronted a press conference with England Rugby supremo Rob Andrew in which he received cautious support.
"The key thing from my point of view is that we take the next four to six weeks with Martin and review what has gone on. Martin will reflect on why it happened and why we went out of the World Cup," Andrew said.
"We said at the beginning that we would take this right through with Martin to the World Cup. Now that has happened we will look at what has gone on. The important thing is we reflect."
The RFU will be looking back on a tournament in which England managed narrow wins against Argentina and Scotland and comfortable victories over Georgia and Romania in Pool C before falling at the first sudden-death hurdle against a team which had lost to Tonga the previous week.

- APNZ