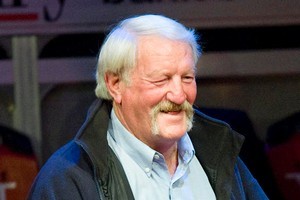 Former New Zealand and Argentina rugby coach Alex Wyllie hopes the All Blacks' recent industrious scrummaging sessions bear reward as they contemplate meeting the Argentine pack in today's quarter-final.
Los Pumas are formidable in that department with veterans like prop Rodrigo Roncero and hooker Mario Ledesma relishing the wrestle at set piece contact. Lock Patricio Albacete has also impressed as the epicentre of their pack, and as a future leader.
It is understood the All Blacks had some brutal live sessions building up to the French game - when they were based in Christchurch beforehand - and the quarter-finals. With trainings largely private it has been hard to gauge but they are also believed to have upped the intensity against Canada by concentrating on keeping scrums up against a weaker pack. Working on stability rather than aggression can have benefits. It prevents a referee penalising the attacking team in collapse situations where calls can become 50:50.
Wyllie has a fair idea how to deal with Argentina. He coached them from 1996-1999, a period which included wins over England, Australia, Scotland as well as beating Ireland at the 1999 World Cup to take them into their first quarter-final.
"They look like they've got size and weight in the scrum. They're big but they've got to get mobile as well. They also need to worry about the mind games. In my experience they look up to the All Blacks so there's a worry they don't believe they can win.
"They also used to get homesick but I think that's changed with many playing overseas now. It helped having the likes of [former captain and halfback] Agustin Pichot among them who had played a lot in England. He made them realise they could match some of the top teams.
For the All Blacks the match shapes as an opportunity for history to repeat from 1987 when they were drawn against the mighty Scottish scrum in the last eight. It comprised one of the era's most respected front rows in David Sole, Colin Deans and Iain Milne who were the cornerstone to one of the better Scottish teams.
Enter Wyllie. Before the match the man known as "Grizz" took his charges out for a training session that has entered into legend.
Estimates vary but the pack put down somewhere in the vicinity of 80-100 live scrums. But hey, who's counting? It wasn't like anyone was about to pipe up and say "excuse me Grizz, that's quite enough".
The result saw the New Zealand tight five of Steve McDowall, Sean Fitzpatrick, John Drake, Gary Whetton and Murray Pierce tear apart their opposites on the way to a 30-3 victory.
Pierce remembers the session vividly: "Scrummage? Did we what... There are parts of your life you'll never forget and that day is one of them.
"I didn't keep count - I think [reserve lock] Albert Anderson might have - but these were live scrums too, with Grizz glaring at us, offering all manner of direct advice. It was gruelling but the hard work paid off and we hammered Scotland and kept improving thereafter.
"We were motivated by the fact that if we lost the game we'd be back at work on Monday. We wanted to keep enjoying the tournament because momentum was building."
So would Pierce recommend it again as an antidote to the big packs the All Blacks look set to face from here?
"I don't see any downside..."
Wyllie is adamant such an approach remains as valid for the All Blacks at this tournament as it did then.
"It was done to get our timing and drive right off the back of the scrum. It meant we could break and hit rucks and mauls hard with good binding; a lot of players seem to hit those individually now. That limits your ability to take the ball forward.
"Certainly the All Blacks could work on their drive. I believe the team that drives the best [keeping the ball up] could win the World Cup. It's all very well to have the best backs but you need to contain opposition forwards and make them commit so your backs have room out wide. At the moment when the ball and players go to ground the opposition don't always have to commit. That means defenders spread out and your backline is put under more pressure with limited space.
Wyllie laments the constant "pick and go" tactics favoured by less mobile packs.
"That is individual stuff but it's come into the game a hell of a lot. It's not pretty to watch and teams often just edge across the field without making much ground."