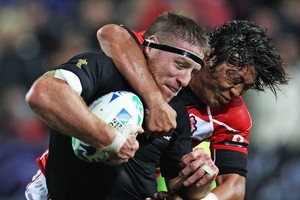 If there is rage left in Brad Thorn, he needs to tap into it today for the Rugby World Cup quarter finals. The All Black hard man has been worryingly passive this season, far from the apocalyptic force he was in 2010.
His bull-bars no longer have their customary array of road-kill proudly displayed. Not everyone this season who has tangled with Thorn has come off second best. He's still a beast, a brick wall sort of chap who it is best to avoid - but not in the same way he was last year. There has been a bit of give in his last test appearances.
A soft touch? Hardly, but clearly Thorn is not the player he has been. He reached the end of last year widely rated the best tight lock in the world but there wouldn't be many who would see him as that now.
Maybe by tomorrow night, that reputation will be restored. The Pumas aren't the gentlest bunch. The backs might as well head off and do some flower arranging, or shoe shopping as far as the Argentinian forwards are concerned.
The backs are there for decorative purposes only - dainty ornaments to be viewed and admired but never played with.
Argentina's locks and loose trio play as one - terrific athletes, mobile, rugged and fearless. They maraud, hit rucks in numbers and tackle with dynamism. They work the rolling maul; they drive low, tight and hard and sniff out anyone not keen on reciprocating the intensity and physicality.
They will know Thorn's reputation and, far from being intimidated, they will want to see if he's worthy of it. If any side demands Thorn to be at his best, it's the Pumas. If he's still got it, they will bring it out of him. If Thorn is still the player he has to be if the All Blacks are going to win this World Cup, confirmation will come tonight.
If it doesn't, if Thorn is flat again, not quite the ferocious, brooding enforcer of old, then the All Blacks have another problem. Not quite a Dan Carter-size problem but a big one nonetheless.
To whom would they turn as an alternative? Ali Williams is the obvious choice but he hasn't delivered consistently compelling form. He's won the ball in the air and the scrum was rock solid when he packed down with Sam Whitelock - but it wasn't Williams as we know him; how we remember him in 2008. Back then he was the world's premier lock - a warrior athlete who was as tough as he was mobile; equally competent in the tight or loose.
The game last week against Canada was a final trial of sorts of Williams. He was asked to empty the tank; to give the selectors a reason to keep him in the jersey this week. By his own admission he didn't quite get there. As he's been all season, he was part good, part not so good.
"It was what it was - it wasn't my best performance in a black jersey. You have those ones and then you move on," said Williams after the game. There were patches there where our hands let us down and as individuals we have to look at ourselves and that was probably led by me.
"Sam [Whitelock] and I have good competition it is healthy. I also think we are pushing Brad which is a good thing, too."
The coaches would have loved for Williams to have been more overtly physical; more of a presence in the collisions. It would mean they could put intense pressure on Thorn to deliver while giving them a basis to legitimately drop him out the starting XV in the semifinal (should they get there) if he doesn't.
Now all they can do is hope that Father Time hasn't made an unwelcome surge to catch Thorn at the most inopportune moment. Such a brilliant player, if anyone deserves fate to be kind it is Thorn.
There was no sign he was feeling his age last year but he was always vulnerable to being blindsided. He's 36 and not many have been able to cut it in the test arena at that age.
It can happen - storming around the place like a teenager one month, dragging the carcass the next. Plenty in their mid-30s have been clobbered by the sudden onset of fatigue. Once the engine loses just a fraction of its horsepower, it can be a rapid process of decline.
That's the gloomy scenario. The optimists will be banking on Thorn having timed this to perfection. They will be confident he's been quiet as a result of his enormous emotional and physical investment in the Crusaders' campaign.
All that travel, so much game time and then the hurt of falling short - even Thorn was surprised at how drained he was in the days following the final. He's hopefully just consolidating - gearing himself for the last big push where Angry Brad will be snorting across Eden Park reminding all comers he pretty much owns the place.