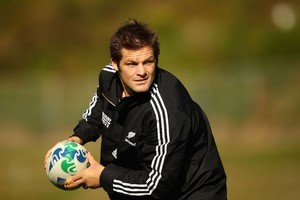 I wouldn't be at all surprised if Richie McCaw doesn't play against Argentina tonight.
The injuries in the All Blacks camp are concerning but, frankly, if the All Blacks can't beat Argentina without Dan Carter and McCaw, they don't deserve to go all the way.
McCaw's foot is obviously a bigger problem than those of us outside the team realised - and I'd say he only has so many minutes of rugby left before he has to have surgery.
He'll be having a needle and I wouldn't mind betting Victor Vito has either been told that he is playing at 7 or, more likely, that he'll get X amount of time on the field. That's presuming Kieran Read continues to hold up in his return from injury.
It's all about managing the injury situation now and I am not worried that Richard Kahui and Israel Dagg aren't playing. Why play people who are half-injured when you have adequate cover?
The other intriguing aspect is that they seem to have sorted out the 10 situation.
They are putting their trust in Colin Slade and I think that's the right decision. Aaron Cruden is clearly the back-up and they just as clearly have decided that Weepu will remain at 9.
Both Graham Henry and Steve Hansen have said that halfbacks do more work than just about anyone else on the field and can't go for 80 minutes - so the prospect of Weepu starting at 9 but then taking over at 10 looks a gone-burger to me.
Weepu has won the starting spot fair and square - his form has been better than that of Jimmy Cowan or Andy Ellis - but some people feel that Weepu's goalkicking is steadier and that he should take the kicks while he is on the field and Slade could take over when Weepu is subbed off. I don't agree with that.
Give the ball to Slade for the kicks, I say, and give him the opportunity to enhance his game and build his confidence. I think they, we, have to get behind Slade now and not worry about Carter's absence.
To go back to McCaw, the All Black coaches are being cautious and they will be trying to nurse him through the sharp end of the tournament. It's a worry, obviously, but I can't see they have an alternative now, with the All Black loose forwards - all except Jerome Kaino and Vito - all having had injury problems.
Just like Carter, there is no real replacement for McCaw, so there's little choice except the nursing and the caution.
As for tonight's other match, it's almost too hard to pick. The Springboks will be difficult but I think they will need to make sure they starve the Wallabies of ball and territory.
They'll need way more than 50 per cent possession as the Wallabies can win a match with 45 per cent ball.
The Boks will be weakened by the loss of Bakkies Botha and Frans Steyn but I think more the latter than the former. All right, Botha is an intimidating presence but I don't think they will lose much in terms of a player on the field. Danie Rossouw has done well in this tournament.
But Steyn is a real loss. His ability to kick goals from 55m or 60m out meant that opposing teams had to mind their manners or they'd leak points.
It's too hard to pick - but I'd say the Boks if they win the forward battle and starve the Wallabies; but the Wallabies have too much game if they don't.
The key clash? The two No 7s - Heinrich Brussow and David Pocock. It will be a battle royale and here's hoping the winning No 7 is exhausted by the struggle; his next opponents will be the All Blacks.