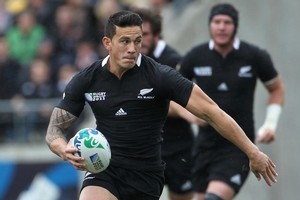 Who's next in this World Cup sequence - Isaia Toeava, Richard Kahui, Zac Guildford?
Sonny Bill Williams, that's who. When the Lotto numbers tumbled out of the All Black selection machine yesterday, lucky number 11 came out for Williams, though the press release said he would play on the right wing.
Fuzzy information has been an All Black theme in the leadup to their quarter-final against Argentina tomorrow at Eden Park.
Inquiries about casualties or uncertainties the day before the team announcement revealed just Guildford as a non-starter because of a hamstring strain. However, after that rest day, coach Graham Henry talked about a side which also had Israel Dagg, Richard Kahui and Adam Thomson on the injured roster.
Captain Richie McCaw will lead a side on to Eden Park which has Mils Muliaina at fullback in his momentous 100th test, Colin Slade starting the biggest game of his career as backline director and Piri Weepu settling into the halfback role.
There is still some mystery about whether Slade or Weepu will start as goalkicker but Henry excused that as a legitimate puzzle.
If Weepu kicked, that was a bonus because he had been chosen as the best halfback for this test.
Then it got a bit silly. The coach suggested Williams could play on the wing but could also play at seven and might do that the following week.
Williams has played 11 tests in his brief rugby career in New Zealand. He has made five starts at second five-eighths and one at centre - the rest of his game time has been from the bench, including several cracks on the wing.
The Pumas were likely to pepper Williams with some up and unders so that was on the agenda for the new All Black wing at yesterday afternoon's last full practice. The coach said Williams had been secure in that area and suggested his side might return that Argentine tactic with interest.
Henry said Williams' work at the World Cup had been strong and every time he was used from the bench, he made a difference.
"He has a lot of composure and is scoring tries; the try he scored in the left corner against Canada, I don't think many other guys would have scored that and he made it look easy, so he has some ability and it is good to have him," Henry said.
"He has taken his chances and there is a midfield combination which is well established which makes it difficult for him and he has taken his chances elsewhere."
Williams looked more comfortable with each game, Henry said, and there was huge expectation on him.
Another settling strongly was Slade. His lack of test experience made this quarter-final a significant assignment, Henry said, but he had shown every sign that he would cope well with the intensity.
Slade already felt more at ease knowing he would start. His role had not altered, he felt calm with all the experience through the rest of the backline and had been reassured about his skills by Daniel Carter.
"I feel more comfortable at five-eighths than fullback," said Slade of his first-class rugby experience.
Someone not so free was McCaw. His foot injury was niggling him but he was managing the injury and working his way through the tournament as best he could.
"When he runs on it, it feels good, then it is not so flash the next day. We have got to make sure he is available, he is working hard off his feet in the gym and doing training that works for him," Henry said.
First up this test would be a huge inquisition for the All Black pack. Argentina drove and scrummed strongly, Henry said, and they were good at the lineout and put a lot of possession in the air. Sometimes they appeared vulnerable on defence, he noted, but they scrambled superbly.
"If you don't win, you're dead, aren't you," Henry said of this quarter-final. He and some of the squad have four-year-old memories of that. This was no time for a repeat.