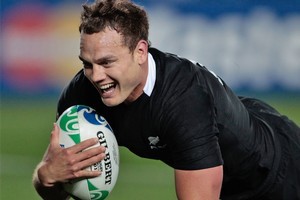 In a column yesterday Gregor Paul suggested All Black coach Graham Henry needs to do something radical following the injury to Dan Carter - writing that Israel Dagg could fill the spot.
nzherald.co.nz readers reacted to the idea with mixed responses.
A number of readers thought the idea of shifting a fullback to first-five wasn't as crazy as it sounds.
Jembo was on board with the suggestion writing: "I just think maybe he should've been tried there a wee bit earlier. But yes, the same way that Stevie Larkham played, so can Dagg. Only Dagg is quicker, stronger and has a better boot on him. Go on IZZY!"
Martin Gray also supported the idea saying: "First thoughts you're branded as crazy: but you have a valid point too about 'contingency plans' and operating outside the box: We don't have a history of doing that in NZ, esp at play-offs (look at 2007 when the French threw caution to the wind and said "We'll worry about that tomorrow" and the ABs went back to the British heredity mentality that said "Play safe, don't make mistakes".
"If all three wise men come to the same frank discussion over a few-too-many drinks tonight in the bar, it might JUST work !"
Meanwhile Bob wrote: "I love this idea. Like Carter, Dagg has rock solid composure and creates time and space. It is a risk, but is Slade a bigger risk? Like another comment said, you can always have Slade as back up on the bench. Also allows you to play Mils at the back to give the backline some more experience."
Grant Trevarthen says that Dagg as the x-factor needed to spark the All Black lineup and that a move to 10 would open the door for veteran Mils Muliaina to reach his tests ton:
"Personally think that Dagg is the sort of player to bring out the best in the already exciting back-line of the All Blacks. It would mean Muliaina could be in the fullback position, and claim his 100th Test cap he so richly deserves. In the games he has played for the AB's, whether it be fullback or wing,he has proved he has the X factor. With the support of such a talented back-line we could very well have the missing link in getting our hands on the Webb Elis trophy."
Leminz also backed the plan: "When I saw your headline, I thought geez, we've really lost the plot.but I can see the merit behind it. Dagg at 10 would provide a bit of x-factor, possibly like a tackling Quade Cooper. Dagg seems to have a big game temperament. Having him at 10 would allow the selectors to play some experience through the backline with Nonu, Smith, Kahui, Jane and Mils outside him also allowing our no 1 halfback in Weepu to play.
"What the hell, I like it. Dagg at 10, Piri to start and Slade on the bench to cover first five and full back. Lets do it."
However not all readers supported the idea.
Grimbles is backing Colin Slade in the no.10 jersey for now writing:
"Nope. Stick with Slade now. He's only steady but he has great players all around him. NZ has never been gifted with flashy 1st fives and we've done pretty well. Carter recently has played pretty conservatively actually, much like Slade, and hes fed his backline well."
Steve in Canberra wrote: Dagg has the skills but there is too little time to convert him into an international first-five. Fly Nick Evans out from London.
While Wait-of-a-Nation seemed to sum in up best:
"In one move, this would shear us of arguably the game's most dangerous fullbacks while replacing a perfectly capable first five with someone who hasn't a clue what he's doing. There's nothing like a misplaced-centre fiasco to mar another NZ world cup campaign. Cullen '99, Macdonald '03 & Mils 07 not enough?
"If that doesn't work, maybe we could put Ben Franks at first receiver. He's a really good rugby player too, after all."
"Slade is perfectly fine. He's not the best in the world but then he's not amongst particularly fierce competition out there either. Steyn and Cooper are both severely limited first fives. Slade might already be better than either."
However Kronikcynic came up with a different option...Sonny Bill Williams.
"Its a no brainer. Sonny bill takes first 5 with Ma and conrad outside him. Dynamic and powerfull!"
- HERALD ONLINE