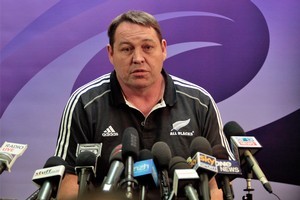 The movers and shakers of the International Rugby Board will have one or two things to think about on their long trip back to Europe following this World Cup, and Steve Hansen today suggested another item for their to-do list - a global rugby season.
It's not a new topic of conversation among rugby coaches of any level but the many injuries suffered by leading players from both hemispheres at this tournament and earlier in the year have given it an added impetus.
Dan Carter's groin tear is the injury du jour but according to the All Blacks' medical staff that was a freakish event which could have happened no matter how rested he was.
More pertinent are the stress fractures and over-use injuries such as Richie McCaw's foot injury, with Hansen suggesting the sooner the IRB organised a global season which factored in proper down-time the better.
"It's not just this year's workload, it's a continuation of a workload,'' All Blacks' assistant coach Hansen said. "Rugby league get 16 weeks to get rid of all their niggles and have a pre-season. Rugby union has four weeks or five weeks before they have to go back into work and I don't think it's much different in the Northern Hemisphere, to be honest. We need a global season and the only people who can do that are the IRB.
"There's no solution unless we have a global season. People have to be prepared to say our players are worth looking after and this is what we need to do to make the next step in the game.''
Hansen said the Northern Hemisphere players weren't necessarily fresher than their southern counterparts.
"I'd say they're feeling like we are. They'll have a bit of match fatigue. They play a lot of games up there too. The difference is they don't have to travel far. The furthest place you go in a plane over there is probably an hour, an hour and a half and you get back home. Our guys have to go to South Africa and various other places so that does make a difference. You saw that with the Crusaders.''
Brad Thorn has conceded that his calf injury mid-season for the Crusaders was a blessing in disguise as it gave him time to work on proper conditioning for the first time since his league days.
But for the IRB a global rugby season is just another tree in a forest of issues. Over the past few weeks the organisation has been criticised for not providing a level playing field in giving the "minnows'' of the World Cup such as Samoa too little turnaround time between matches and being too heavy-handed in fining the Tuilagi brothers for wearing the wrong mouthguards. They have been accused of bleeding the big rugby countries dry and not giving enough to the smaller nations.
Given the competing interests between the national unions and privately-owned rugby clubs in the Northern Hemisphere, plus the Southern Hemisphere unions, it's not likely a global season will be organised any time soon. That's a shame as it would shut down a conversation piece uttered by many except rugby coaches - that of 'too much rugby'.
- APNZ