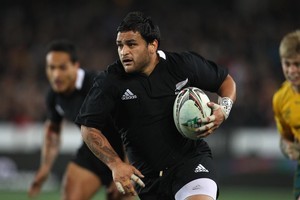 There's no doubt about it - Dan Carter's injury was a shock.
We were all shocked. Your immediate reaction is, 'Oh hell, that's going to bugger us up'.
We've all been for 12 months - we'll win [the World Cup] as long as Dan Carter and Richie McCaw don't get hurt - and that's what's happened.
But the more you think about it, you know the others will play better.
So my message to New Zealanders is this - 'be patient'. We can still win it. We've had a setback - but what's a setback? It's just another obstacle put in front of you to overcome. And this All Black side will do that.
There'll be a bit more onus on Ma'a and Conrad Smith. And they'll step up to the mark.
Whether it's Israel or Mils, they're all playing pretty well.
Zac Guildford showed last week how you bounce back from adversity. His four try performance was tremendous.
So who plays in the number 10 jersey now?
I wouldn't be surprised if they go to Aaron Cruden for a bit of a trial and Piri Weepu or Colin Slade as a backup just to see how he goes.
But I'd put Piri at halfback to start with. He's such a confident player and we need confidence at this stage.
If they go with Slade, and he starts struggling, they'll bring Cruden on. And if he's not going so well they'll bring Weepu into first-five.
The selectors have a lot of options there and, even over the course of one game, they could try all three of them.
Slade has been good and bad. He's had some real good patches and then he goes off the boil.
Last Saturday Cowan had his worst game for a long time, and that didn't help Slade. His passing was terrible. Cowan looks right out of form at the moment.
Apart from that, the selectors have to pick their best team. Kieran Read did enough, he just needs a bit more time. The rest of the team almost pick themselves.