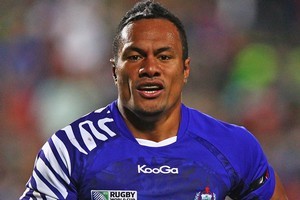 Former All Black and Sky sports commentator Stu Wilson says the IRB has "let itself down" by dishing out inconsistent penalties to minnows and top teams breaking Rugby World Cup rules.
But he says the IRB had his "full support" when it came to punishing players that broke the rules and swore and criticised officials. Professional players that signed employment contracts knew the rules going into the tournament, so they had to "deal with it" when sanctions are imposed.
"I don't know whether the players understood that, but they have to because they're getting paid a s*** load of money. Wake up!"
However, while he acknowledges that "rules are rules", he is shocked at the IRB inconsistencies when it comes to punishing offences.
"Letting two English officials get away [with ball-swapping] because it was handled internally is just bull-crap. They blatantly cheated. Blatantly.
Versus the guy that had a mouth guard sponsor that only a dentist would have been able to pick up two inches from his face. [The IRB] let themselves down there."
As the Rugby World Cup edges closer to the business-end of the tournament, the game's governing body is fending off suggestions of unfairness and facing pressure for its over-bearing approach to punishing rule-breakers.
Biblical scripture on players' wrist strapping is the latest issue to be brought under the IRB microscope.
The scheduling of World Cup matches came in for heavy criticism, before brothers Manu and Alesana Tuilagi were hit with $10,000 fines for wearing unapproved branded mouthguards.
Samoa's 30-year-old centre Eliota Fuimaono-Sapolu has also been banned indefinitely from rugby for not attending a judicial hearing after his prolific Twitter rants about what he describes as IRB "injustices".
Wilson suggests other teams should follow the All Blacks' lead and impose social networking bans on players. Using Twitter and Facebook to get stuck into referees is "poor", he says.
The scheduling of World Cup matches came under fire from the so-called minnow teams, who argued the IRB favour 'bigger' teams with the draw. Wilson agrees that it is an issue that needs addressing.
"You can't have teams playing 3-4 games in 12 days. Compared with football, you can't do that because it's a fairly physical game."
NZRU boss Steve Tew added to the IRB's woes when he criticised the financing structures around the tournament and suggested the All Blacks could pull out of the 2015 World Cup. On Tuesday, IRB chief executive Mike Miller warned the All Blacks that "everyone is replaceable", but Wilson is urging both parties to look at the issues from an objective viewpoint.
"Think what the non-rugby person is saying and thinking about this tournament. One, they think it's a fantastic event. Two, they thought the mouth guard versus the two Pommie cheats was unbelievably bad. Then suddenly someone makes a statement saying 'we're not going to the World Cup in four years' time' - how does that look if you're not a rugby tragic? They shake their head in bewilderment."
- Herald Online