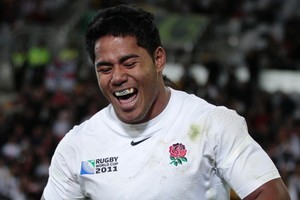 English player Manu Tuilagi has been fined $10,000 for wearing a sponsored mouthguard during the Rugby World Cup.
It is the second fine implemented by the IRB after his brother Alesana - who plays for Samoa - received a similar fine.
Manu wore the guard bearing a sponsor's name during England's first two games of the World Cup, when they went up against Argentina and Georgia.
His brother - Samoan winger Alesana Tualagi - wore a similar offending non-approved mouth guard in that side's 27-7 win over Fiji.
He was also fined $10,000.
The IRB said in a statement the team kit rules are "well understood by the participating teams and are in line with other major sporting events".