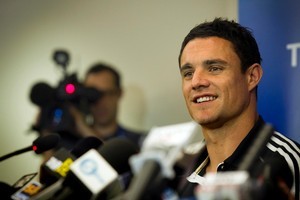 Crouch, touch, pause, engage. And away they went. The TV networks could not get enough of injured All Black five-eighths Daniel Carter.
Live crosses must be late-afternoon ratings gold, judging by the cross-room fervour employed by the television frontmen. They were all there, the newshounds, the sportscasters, Mark Sainsbury and John Campbell who take the television baton after the evening news.
The room at the All Black hotel was alive with the photographers' motor drives and flashy units, Rugby World Cup stenographers were piling quotes into their laptops.
This may have been the most intense media event so far in the World Cup. Not the biggest, those are reserved for the post-match interview sessions, but certainly the broadest attendance of the global media.
Carter walked in, a little gingerly, but with that smile which usually accompanies his public appearances.
Three days after the groin tendon rupture and collapse of his World Cup dreams, he was talking through those events, the rest of the tournament and his future.
One bloke slipped him a question about playing in the 2015 tournament, which the five-eighths batted away to the touchline.
For the bulk of the interview, Carter took the questions, though assistant coach Steve Hansen chipped in with assessments on the other wounded.
Tony Woodcock, Kieran Read, Colin Slade, Israel Dagg and captain Richie McCaw would all be fit for the All Blacks' Eden Park quarter-final on Sunday against Argentina.
Slade was not Carter and now had his chance to show his credentials while the rest of the squad needed to increase their work to make up for Carter's absence, said Hansen.
Carter told how he'd kicked thousands of balls in practice and never had any trouble before, nothing like the "pop" he felt last Saturday.
He had taken some time to move on from the "gut-wrenching and disappointing" end to his participation in this World Cup.
Behind closed doors he was angry and perplexed, frustrated that his involvement had been curtailed again through injury. The accident also claimed his chance to captain the All Blacks for the first time.
He wondered constantly why his leg failed him but he hoped New Zealand was over his drama and ready to support the All Blacks' playoff campaign. From afar, he would do all he could to assist the side.
As the All Black staff signalled time was up, crouch, touch and pause were abandoned and engage took over as the journos began arguing with the minders.
The tournament was back on an even keel.