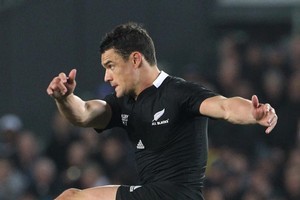 The corollaries were easy to make. Carter down and out, the All Blacks hurt and busted.
Daniel Carter's exit has removed the record test-points scorer from the All Blacks' arsenal and more importantly, cut the power cord to their Rugby World Cup computer.
The five-eighths carries 85 tests' worth of experience, memories of almost any situation that confronts a playmaker and recollections of how to conquer (most of) those issues.
Indispensable? Yes. Irreplaceable? Numerically no, but in their eight years in charge, the All Black selectors have never found a backup they deemed suitable.
Think of them. Luke McAlister, Leon MacDonald, Nick Evans, Stephen Donald, Aaron Cruden and Colin Slade - none have shown enough class or been trusted in enough to prove they can cut it.
If you asked the nation to nominate one player the All Blacks could least afford to lose in this tournament, a high percentage of answers would name Carter.
There are other greats in the side and finding quality deputies for Richie McCaw, Jerome Kaino, Ma'a Nonu and Mils Muliaina has been taxing. Not impossible though.
Finding blokes to do Carter's job more than adequately has been one of the great unsolved problems for Graham Henry, Steve Hansen and Wayne Smith.
They've had 100 tests together and never cracked the issue.
It's been awkward because Carter has not been injured often, and others like Evans have become frustrated at their lack of regular opportunity.
Finding that special talent to wear the No 10 national jersey is not just confined to New Zealand.
However there are sides at this tournament with several quality five-eighths - England, Ireland, Australia, Wales and South Africa come to mind.
Now Colin Slade has to produce the goods for the All Blacks and the nation.
His start yesterday against Canada at the Cake Tin was just his fourth in a short career of nine internationals. This year his work was interrupted by two broken jaws, but the All Black panel had identified him as the best prospect to understudy Carter.
His range of skills best fitted their template. Slade was also versatile enough to play on the wing or fullback and was a more able goalkicker than Cruden or Donald.
Now we will see. He has three more tests in which to help write a remarkable chapter in World Cup history or be part of the All Blacks' continuing misery since 1987.
It is not all down to Slade of course.
You feel the All Blacks look to Carter to help them to victory more often than they should. Usually he finds a way.
Now the rest have to step up another notch, they need to lift their work and give Slade the time and clarity to unfold his skills.
In 1996, the All Blacks lost Andrew Mehrtens to injury and Simon Culhane stepped into the breach and helped nail the All Blacks' first series win in South Africa. Now it's up to Slade ... and 14 others.