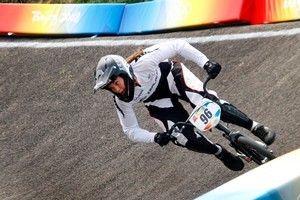 New Zealand BMX rider Sarah Walker all but sealed the UCI Supercross World Cup title after topping the time trials in the final round in Southern California yesterday.
The 22-year-old from Cambridge comes into the fourth and final round at the US Olympic Training Centre at Chula Vista with a substantial lead and a strong showing in the time trials has given her a claw grip on the title.
It was not such good news for compatriot Marc Willers, who crashed heavily in practice yesterday and withdrew after his warm-up yesterday.
"Marc was still pretty sore today. It was the same shoulder that he had reconstructive surgery on last year although the doctors said there was no serious damage," said BikeNZ coach Ken Cools. "He warmed up but was still quite uncomfortable. He would not have been able to ride to his capability and racing would have been challenging. We talked about it and he decided it was not worth the risk.
"We are just over 10 months away from the London Olympics. Marc is disappointed as he wanted this title but he definitely understands the big picture."
Walker was the only rider under the 37-second barrier in the elite women's competition, clocking 36.802s to be 0.4s ahead of American Arielle Martin and world champion Mariana Pajon of Colombia. The Americans made good use of their home turf advantage with five riders in the top ten.
Later in the day one of those up-and-coming Americans, Brooke Crain, upset the favourites to take out the superfinal for the top-16 qualifiers from the time trials. She clocked 36.364s to finish ahead of Pajon, Martin and Walker, who was content with another solid run without taking undue risks ahead of racing today.
The only other New Zealander to qualify was Tauranga's Kurt Pickard, who was the 30th fastest from the 150 starters in the elite men's competition. Pickard, who has been steadily improving at the top level this year, clocked 35.644s, just over a second behind top qualifier Connor Fields (US), the former world junior champion. Pickard will be hoping for better fortune in the draw for today's motos, as he has regularly drawn brutal heats in competition this year.
World junior silver medallist Trent Woodcock was a blink away from qualifying for his first supercross final. The Pukekohe teenager, also nursing a shoulder injury, was just 7/100ths of a second off qualifying.
"I'm gutted for Trent. He is riding so well when you consider he will need shoulder surgery when he gets home. It's a pity because ... I think he could have progressed in this competition," said Cools.
- APNZ