Scotland's brave battle against old foe fails in the final minutes at Eden Park.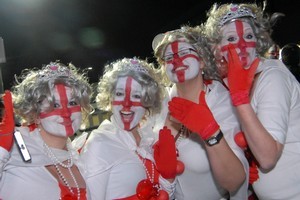 Brave hearts couldn't beat the grinding English rugby machine last night.
Never mind what was happening on the pitch - fans in the stands suffered through a tense, nail-biting 80 minutes at the Rugby World Cup during which excitement gave way to anxiety as Scotland edged close to a victory.
Then, in the 77th minute, the match was stolen by England with a last minute try. A conversion - 16-12 - and the fans collapsed in exhaustion.
A victory lost, and a victory barely won. Fans left Eden Park quietly while on the field distressed Scottish players congratulated the visibly relieved English.
Englishman Adam Bannister said he had been tearing his hair out at the way his team had played. "That was God awful. I don't care if the French got beat today, we don't stand a chance against them next week if we play that badly."
Dorset's Bethan Turk had "mixed feelings" about the result. She said England had played a boring style of rugby.
"It was not exciting and not inventive. Scotland looked like the better team."
Turk said she hoped England's form would improve in the quarter-finals. "I think we've got a chance of winning the World Cup."
London's Laura Hodgson said the victory was "awesome". "I'm just glad Jonny Wilkinson came off." The English number 10 left the field with 10 minutes to go.
Delighted Chris Clay, 32, was rejoicing in the last-minute win. Clay, who lives in Howick but originated from Nottingham, said: "Sometimes you just want to stand up and shout."
Dejected Scots leaving Eden Park last night said they were devastated at the defeat.
Scotsman Alistair Browne, holidaying in New Zealand, said: "Beating the English is like winning the World Cup for us, I can't believe we let it slip right at the end."
Countryman Trevor Simpson said the Scots had played better and deserved support. "We were fearless out there. The whole team lifts against the old foe. But it wasn't to be."
Glaswegian Andy Graham said he would have an early night. He was "gutted" Scotland lost to England.
"I don't mind if it's Ireland. I don't mind if it's Australia. But if it's England, it hurts the most."
Viewers who watched the match on TV One complained of lost sound during highlights of the day's matches.
A TVNZ spokeswoman said sound was lost for 16 minutes for viewers with Freeview sets. "Our people are looking into it to ensure it doesn't happen again."
She could not say if it was the same issue that caused similar problems earlier in the week.