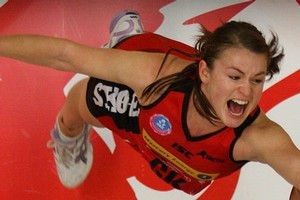 Canterbury Tactix star Charlotte Kight is set to join the Mystics in a major boost for the Auckland franchise.
Kight, who had signalled her desire to leave the Tactix by turning down their contract offer, is believed to have all but agreed terms with the Mystics for the 2012 ANZ Championship season. Mystics CEO Mark Cameron was reluctant to confirm the signing but said they were "confident" of securing Kight.
"We have been working down a path with Charlotte but still need to finalise a few details," says Cameron. "She would give us real depth at the defensive end and would bring a lot of smarts and mental toughness. She would toughen us up and offer something different."
At the defensive end, the Mystics have Anna Scarlett, Rachel Rasmussen, Kayla Cullen, new import Jade Clarke and Jess Moulds, though Cullen and Clarke can also be used in the midcourt. The 23-year-old Kight has been often played at goal keep by the Tactix though many judges feel that, at 1.83m, she is more suited to positions further out. It is understood the national selectors see her future as goal or wing defence.
"We see her as being suited to the GD/WD swing," says Cameron, "and she would enable us to mix things up."
The Tactix were granted permission to recruit a second import, mainly because of their inability to recruit locally as Christchurch recovers from the February earthquake. A foundation member of the Tactix, the Dannevirke-born Kight turned down a contract offer from making it clear she wanted to move on.
Most within the netball community have been sympathetic, though there have been some mild dissenting voices across the Tasman.
"I guess we all knew it was coming," says new West Coast Fever coach Norma Plummer. "I know they have said they were having trouble getting players to come to Christchurch and I can understand why. I know in the past they have also flown players in and out a fair bit so I'm not sure ... but hopefully it is for all the right reasons."
The Fever are also in a netball outpost but Plummer knows they will not receive any special dispensation.
"They certainly wouldn't have allowed us to have that," says Plummer, "they knocked [us] back in the attempt with Ama Agbeze." The Fever tried to get Agbeze, who has played three seasons in Australia, registered as a local player but they were turned down. She had one year with the Pulse sandwiched between her Australian stints.
Kight has been a Silver Ferns squad member since 2009, and played in the two triumphant Fastnet campaigns over the past two years.
Her signing would bring the Mystics roster to 10, with the final two places likely to go to a shooter and a midcourter. Cameron confirmed they would be holding trials this Wednesday, as a chance for local players to show their wares.
Meanwhile, Kight enjoyed the perfect farewell from the region on Friday as the Canterbury NPC team repelled a spirited Otago challenge 63-59 to successfully defend their title in the final of the Lion Foundation Netball Championships in Porirua.
A perfect shooting return from Jodi Brown could not swing the match Otago's way, the Canterbury shooters not enjoying the same accuracy but more opportunities through a greater share of the possession.
"It's a massive feeling and words probably can't describe it. It feels good, we've had a torrid year in Canterbury so there's a lot of emotion," said captain Anna Galvan.