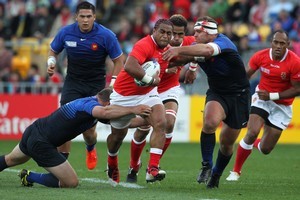 Tonga 19
France 14
Magnificent, brave, marvellous Tonga. Take a bow for last night; for delivering one of the biggest shocks of Rugby World Cup history and for being the life and soul of this tournament - for setting this tournament alight long before a ball was ever kicked.
The only shame is that they have to leave us. In beating France - and really beating them - they didn't acquire the bonus point they needed to stay with us.
They deserved more. They didn't sneak past or luck out last night. They won because they controlled the game. They won because they were better than the French in every facet that mattered.
It was Tonga who provided the flair, the enterprise and the passion. It was Tonga who had the muscle to back it up and with a bit more composure they would have done France by a seriously wide margin.
Still, they shouldn't beat themselves up. Tongans all around the world can wake up this morning and be ferociously proud. Their victory ranks with the biggest upsets in World Cup history. It's up there with Samoa beating Wales in 1991; just as big a result as Fiji beating Wales four years ago.
There were some who pushed the French as potential finalists after their clash with the All Blacks - convinced they have hidden depths that can take them all the way. That's possibly overstating things but, no question, France are a big player in this tournament and Tonga swarmed them; ran them ragged and made it impossible to tell that this was a clash between a Tier One nation and a Tier Two.
There was no bigger hero than Sione Kalamafoni who was sensational on the blindside; this thunderous big beast that didn't know when to quit and he lifted his entire team into a level of performance that had looked beyond them in their earlier contests.
Taniela Moa was all snappy and sparky at halfback and the Tongan midfield had an element of trickery about it as well as a physical presence that the French didn't get much of a handle on. If only Kurt Morath could have been as brilliant with his goalkicking as he was with the rest of his game.
If only Tonga could stay in the tournament because, if they could play like this again; deliver a performance just as compelling; no one would fancy taking them on. They were committed and at times they were sensationally creative - as shown when Morath cross-kicked for Viliame Iongi's try.
The French couldn't get the ball for long periods. The Tongan forwards were too good at the collision. They stayed on their feet through the tackle and drove and drove. France couldn't handle their power and there was no mid-game drift; the Tongans stayed on task and if anything, got better as the game progressed.
Their confidence grew and they began to pass more before the contact and use their pace as well as their power. They were still running strong in the final minutes and really should have scored another try when they ripped the French open with a burst from deep inside their own territory.
It says everything about their superiority that they were able to blow such a golden opportunity and not really feel the pain of regret. They looked like the winners of this game from as early as Iongi's try. They were just too good and it was entirely fitting that Tonga should leave in a blaze of glory given they were the ignition that brought this tournament to life.
They can go with their heads held high - they gave everything and more in Wellington and set the benchmark for bravery and defiance.
Tonga 19 (V. Iongi tries; K. Morath con, 4 pens), France 14 (V. Clerc try; M. Parra 3 pens).