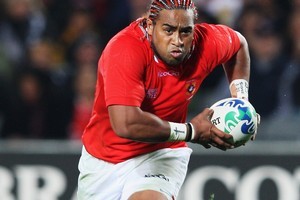 If life had been a little kinder to Taniela Moa and if he in turn had been a little tougher on himself then perhaps he would have been at this Rugby World Cup in a different guise.
Instead of being Tonga's enigmatic talisman Moa, a vastly slimmer one at least, could have been the creative talent the All Blacks are lacking in their halfback stocks.
Moa is an outrageous talent; gifted beyond the norm and freakishly capable. He's never done dull and it was his potential to conjure opportunities that didn't exist that saw him earn an All Black call-up in 2008.
It was a precautionary selection - Moa joined the squad in South Africa amid an injury crisis at halfback but never saw any frontline action. Despite his non-involvement he was obviously close to cracking the big time, certainly a prospect the All Blacks were monitoring. He was 23 - a key member of the Blues and a player whose potential seemed infinite.
But as quickly as he rose, Moa fell from a great height. One day he was being quizzed by the media about a meteoric rise to fame; almost the next he was being quizzed by the police about why he had thrown a bottle at a woman at the Marist Rugby Club in Ellerslie. In the space of nine months, everything had gone wrong for Moa.
Almost an All Black in August 2008, his form disappeared as part of a memorably bad Blues campaign in 2009. By April his personal life was shattered by a relationship break-up shortly after the birth of his first child - the pain of which he was trying to drown in alcohol the day he threw the bottle.
From being within touching distance of the summit, Moa's rope was cut.
His weight climbed, his form dropped further and by the end of the year he was no longer wanted by either the Blues or Auckland. A star of both the New Zealand Secondary Schools and Under-21 teams, Moa was in danger of kissing it all good-bye before his 25th birthday.
What hope was there for a player whose conditioning was shot and whose reputation was in tatters? Moa had raw talent that could win games but his propensity to try the impossible was more likely to lose them.
Yet somehow he's managed to haul himself off the canvas. He joined the Bay of Plenty last year and scored some spectacular tries.
His game was never perfect but the mistakes were fewer and the Chiefs signed him in the hope they could further separate the wheat from the chaff in his game. He had a reasonable campaign which piqued the interest of Tonga and against the odds, he has fulfilled a dream of playing at the World Cup.
He'll always carry that element of what might have been but he's given himself ample reason not to be full of regret. He's been one of the better halfbacks on show at this World Cup.
He's played against the All Blacks and France and it has in fact turned out to be a blessing that he never actually made an appearance for New Zealand back in 2008. That would have killed his opportunity to play for Tonga; killed his opportunity to impress the offshore market.
Moa is now on the verge of signing for French club Pau and Tonga captain, Finau Maka, who has played most of his career in France, believes the powerful halfback has what it takes to thrive in one of the toughest leagues.
"I think he's going to sign with Pau," said Maka. "He's more of a player like Byron Kelleher in that he loves the physical contact and that side of the game rather than someone like Morgan Parra who is more of a passer.
"I think he'll do all right in France."