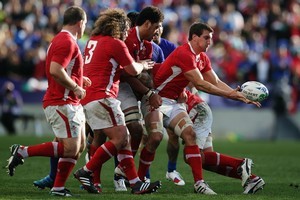 Wales captain Sam Warburton dismisses talk of a grudge match but admits their likely quarter-final against Ireland will have some added spice.
The Celtic nations play their final pool matches this evening against Fiji and Italy and barring unlikely outcomes (Fiji beating Wales, scoring four tries and denying them a bonus point; Italy toppling Ireland and denying them a bonus point) will meet each other in the last eight on Saturday in Wellington.
Any clash is fiercely contested but a Welsh win under controversial circumstances in March - winger Mike Phillips scored a dubious try - is sure to be major motivation for Ireland this time.
"I'm sure in Ireland they were upset and I don't blame them," Warburton told the Herald on Sunday. "They did play very well and at the end that was what separated it. I hope it is in the past but maybe Ireland will want to get a bit of revenge - I'm not sure."
The incident Warburton refers to occurred in a Six Nations clash in Cardiff. With Ireland holding a slender lead in the 51st minute, Wales scored a match-turning try partly thanks to a mistake from the match officials. Hooker Matthew Rees took a quick lineout throw just outside the Irish 22, catching the men in green by surprise. Phillips caught the ball and sprinted away to score.
The problem was that Rees had used a ball given to him by a ballboy, rather than the actual ball as set down by the rules governing a quick throw in. Referee Johnathan Kaplan checked with his assistant, who erroneously confirmed that Rees had used the same ball.
The Irish were in uproar, pleading with Kaplan to consult with the TMO and imploring the Welsh to own up.
"It had a huge bearing on Wales' confidence and we never recovered from it," said Brian O'Driscoll after the game. "They got seven points from it and we lost by six. It's hard to get away from that."
Irish coach Declan Kidney:
"They took a quick lineout that shouldn't have been allowed and scored from it."
The anger flowed back to Ireland, with bookmaker Paddy Power refunding £175,000 ($358,000) after refusing to accept money on a Welsh win. It killed the Irish championship hopes who finished two points behind winners England.
"It was a big talking point," recalls Warburton. "At the time the players thought it was a legitimate try; we didn't realise it was a different ball. We didn't have time to think about it - I thought it was smart play.. We didn't realise what had happened until after the game when the media went crazy."
Warburton is quick to defend the actions of his team-mates.
"I think gamesmanship happens all the time and I'm sure a lot of other teams would have tried it if they knew they could get away with it. I think it was pretty smart thinking from Matthew Rees, to be honest, and for Mike Phillips to get there so I'll give them a lot of praise - it was very important in the end."
Warburton has been one of the standouts at this World Cup. Mature beyond his 22 years, the 1.88m flanker has come on in leaps and bounds since his debut just over two years ago. He was named captain only in August after Rees was injured. He was man of the match against South Africa in a bruising clash with Heinrich Brussow and produced another strong display in the hard-fought win over Samoa.
Warburton reports they have enjoyed their time in New Zealand, with various activities (go karting, jet boating, fly-fishing) though might be going a little stir crazy during their second stint in Hamilton.
"We go to Starbucks for a coffee, there is a cinema next door and the casino," says Warburton. "I'm not sure if there is much more to do in Hamilton; I was astounded to hear some of the boys were off to an art exhibition - they must be struggling for ideas."
Warburton celebrates his 23rd birthday on Wednesday. He is unsure what his team mates have planned but plenty of singing is guaranteed.
"We are quite a vocal bunch," laughs Warburton, "and everyone likes a singalong. I'm not sure why - maybe we are inspired by Tom Jones."
The Welsh have regular choir practice led by 116kg prop Craig Mitchell and have replied to Maori welcomes with verses sung in their native tongue.