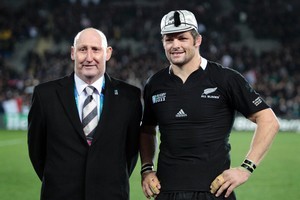 It may forever become known as the season of triumph but 2011 has its roots embedded in multiple tragedies that are proving powerful drivers for the All Blacks.
Stark reminders that life hasn't been great for all New Zealanders have popped up everywhere in the past 12 months to remind the All Blacks they are playing to somehow do a little bit towards mending broken communities.
This team has become used to carrying the grief of others and being the tangible entity on which hopes can be built; the platform from which some can find the strength to regenerate.
All Black victories don't bring back the dead or rebuild damaged houses but they do provide hope, maybe even inspiration, and if nothing else, they provide distraction - a break from an empty and challenging reality.
It was initially hard for the All Blacks to understand their role in the bigger picture. They were in Cardiff preparing to play Wales and clinch a Grand Slam last year when 29 men were killed at Pike River.
New Zealand Rugby Union president at the time, John Sturgeon, had been with the team all tour and his pain transferred to the players. Sturgeon was a mining man from the West Coast and knew some of the men trapped.
Playing a test felt wrong to some. How could the outcome of a game of rugby be relevant to a nation coming to terms with one of its worst tragedies?
"It will be spoken about and it has been already," said assistant coach Steve Hansen on the Wednesday before the test. "It's been one of the big topics. Last night we had a meeting and there was a silent prayer.
"It [winning] is not going to change anything for the families I'm sure, but that's all we can do and that's what we will be attempting to do. I think every New Zealander today will be feeling it in some way.
"You have a choice of how you respond to those feelings and the best way we can respond is to go out and perform really well and put a little ray of sunshine through our performance back to New Zealand."
For the Crusaders players on that trip, the concept of playing for others took on even greater significance after the February 22 earthquake. The tragedy of that day lived with them all season and stays with them now. Most of their All Black team-mates from outside the region thought they had some understanding of what the Crusaders' boys were living through. When they arrived in Christchurch last week, they realised the full extent of the damage; they realised how far from normal life currently is in Christchurch.
The squad met families who had lost loved ones; some of the players went into the red zone and they were conscious all the time that New Zealand's second largest city and arguably the premier rugby region - the very backbone of the game in this country - was missing out on the greatest event ever likely to be hosted in these parts. It was painful to see a city with such a rich history, a city that provides the bulk of the All Blacks' star talent, so removed from the World Cup. Auckland has caught World Cup fever but in Christchurch, people are just trying to get through each day.
When a couple of big aftershocks rocked the All Black hotel, they provided the final reminder that the people of Christchurch need beacons of hope. Ali Williams appeared in the lobby seconds after the shuddering had stopped. He was clearly troubled; it was hitting home just how tough life has been and continues to be.
There was yet more to come for the All Blacks once they got back to Auckland. As they stood on the field following their defeat of France, to celebrate the tenacity and excellence of their captain, they saw first-hand how tough the last year has been for former NZRU chairman Jock Hobbs.
He did more than anyone to bring the World Cup to New Zealand. He probably did more than anyone to ensure there was even a World Cup to bring when the sport was almost stolen by Kerry Packer in 1995.
A former All Black captain, Hobbs is not viewed by the players as a jock-sniffing suit peddling baffling corporate messages. He's one of them - which is why it was inspiring to see Hobbs summon the energy to make McCaw's centurion presentation, yet also partly heart-breaking to see the effects his battle with leukaemia is having.
A rarely emotional McCaw struggled to keep it neutral when he was asked whether it was particularly fitting to have his landmark honoured by Hobbs.
"He's a guy I have a huge amount of respect for," said McCaw. "He's been through a rough time and to have him here was a special thing."
In a further turn of misfortune, the All Blacks awoke on Sunday to news that Jonah Lomu had been taken to hospital. Hobbs may have saved the World Cup in 1995 but it was Lomu who had made the World Cup worth saving. No player has done more to make the event what it now is. Lomu turned rugby into a genuinely global sport; he pushed it into professionalism and the current generation have Lomu to thank for their enormous pay packets.
It's impossible not to keep coming back to Lomu whenever the great World Cup moments are discussed and there was an overwhelming sense that it wasn't just the choreography and themes the organisers got right in their opening ceremony - it was their choice of celebrity to appropriately mark the occasion.
There are several players in the current All Black team who played with and against him and still consider those times as career highlights. One is Ma'a Nonu.
"When he played for the Lions in 2002 and I first met him, I gave him a hug. I hope he's getting better. I really hope he's getting better."
There has been ample pain for the All Blacks to absorb this last year. They know that in some small way they are playing to give something back.