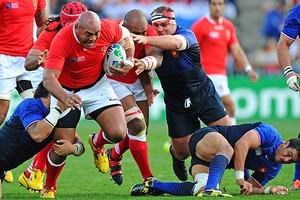 Tonga 19
France 14
Twilight rugby became a fairyland zone for Tonga tonight as they delivered the greatest upset of this Rugby World Cup.
The men in red walked all over and round France showing little regard for the Six Nations status of their opponents, belting them 19-14.
It was a monumental result with Tonga rated 13th in the world at the start of the tournament and France occupying fourth place.
Victory gave Tonga two wins in this World Cup but France squeaked into the playoffs because of their tournament bonus points.
This was how Tonga were supposed to play throughout the tournament and they looked ready from the start. They had a few scrum issues but brought invention with their resolve and gave their much more fancied rivals a thorough beating.
The scoreline may not have suggested that because Vincent Clerc scored in the last act of the test but it was a comprehensive victory.
Halfback Taniela Moa was a central figure in much of the spark, varying his silky passing game with some nifty attacking kicks and powerful bursts.
One pop kick over a ruck set wing Sukanaivalu Hufanga away early but he was a metre offside.
The next attacking kick from five eighths Kurt Morath was more precise and profitable. It landed in the grasp of right wing Viliame 'Ioangi who beat a poor covering tackle from Julien Bonnaire to score.
Crisp as you like Morath eased the sideline conversion through the target and then steered a penalty over to have Tonga as the unlikely halfway leader at 13-6.
In the last few minutes before the break they lost Hufanga to the sinbin when he smashed Clerc in a tackle.
Referee Steve Walsh and his closest linesman Carlo Damasco saw no problem but Dave Pearson way over on the other side of the Cake Tin suggested yellow card for a lifting tackle.
Somehow Walsh conceded and Tonga faced rigorous exams either side of the interval.
While Tonga were fiesty and adventurous, France were strangely listless, fractured and disorganised. At the break they did not have the look of a side who believed they could win.
For another quarter that pattern continued. Their backline play was laboured and the Tongan defence line lapped up the tackling practice.
Blindside flanker Sione Kalamafoni was deadly, crunching anyone in his path while his tight men smashed into their work all night. It was relentless and the French did not appear to have any answer.
Morath missed a couple of kicks from 32m he normally would have nailed and that allowed France to stay within range.
But when Fabrice Estabanez was sinbinned 15 minutes from the end for a lifting tackle, Morath had his radar working from 38m. That gave Tonga a 16-9 lead.
A win seemed probable, a draw at worst for the warriors in red.
Another Morath penalty and Clerc's try did not alter this red-letter evening for Tonga.
Tonga 19 (V 'Iongi tries; K Morath con, 4 pen
France 14 (V Clerc try; D Yachvili 3 pen)
HT: 13-6