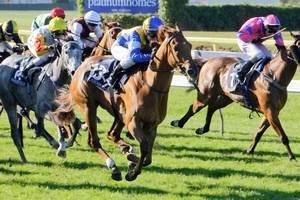 Blocking Jimmy Choux in on the inside running rail is the only way the opposition can beat him in today's $300,000 NZ Bloodstock Insurance Spring Classic at Hastings.
The knockers are saying what about Starcraft being beaten at similarly short odds in his year in the corresponding race.
Well, the difference is that Starcraft was suffering from exactly what our horses face when they travel to Australia to race.
Starcraft looked a world beater in the early stages of the Hastings spring treble. Our horses - Jimmy Choux included - do the same only to see their form often drop away as they progressively struggle to adjust to strange surroundings away from home.
Jimmy Choux this time is not only a New Zealander in his own country, he's racing on his home track.
Bad luck is his threat. The No 2 gate is probably not ideal - No 5 or No 6 might have been safer, but Jonathan Riddell is one tough rider and if you wanted one jockey in this race to force his way out of a troublesome pocket, it would be him.
The danger is unquestionably Booming. His last run was a massive pointer to a quick improver.
The roughie for multiples is Don Domingo.
Early in the programme Royal Queen (No1, R3) looks a great prospect again, despite going up 1.5kg on her main rivals from her win on the second day of the carnival. She looked to have more than 1.5kg in reserve in that last win and looks a mare of some potential. Don't panic about the wide draw, either - she clears the gates brilliantly. Capital Diamond (No5) was massive in winning last start and Universal Music (No2) is a must for multiples.
The 59kg looks tough on Yin Yang Master (No1, R2), but he's got a bit of class and is not out of contention because of it. The good track this time will assist. Seigal (No4) is better than the amateur competition he beat at Rotorua last start.
Capone (No1, R4) looked an improver when fifth when resuming here last start. He got home well over 1400m and steps up to 1600m this time. Yourein (No3) is another who will be more competitive in his second start following a break.
Everyone is waiting to see which race Roger James tackles with He's Remarkable (No12, R5). He looks a particularly good prospect in this race. His win fresh at Ruakaka was nothing short of sensational and showed him to be right back to what we know he can produce after tailing off last season. He is also accepted for Race 7, where he has to face terrific mare Twilight Savings (No9) and he may be required to give her a decent start from the home turn in that race, which will not be easy. Twilight Savings was huge in just being beaten at Hastings a couple of weeks back. Race 8 is very tricky, but Slashing (No13) could be each-way value. Racing on a new inside strip should mean close-in barriers will be favoured throughout the programme and Slashing's No 2 gate looks good.
He turned in a good fresh-up third in a competitive race at Te Rapa and although this is a strong line-up, the odds should be good. Shandream (No1) and Starguru (No4) will be competitive.
The Hombre (No1, R10) has mixed form, but there is no questioning his class. Fresh from a spell on his home track, he should give a great sight today. Khemosabi (No6) is very talented and watch for a major race from him in his first outing since coming back from Australia.
* In Europe So You Think might be accepted as New Zealand bred and Australian trained, but the northerners have taken the horse to their heart.
So You Think is only second favourite for Monday morning's l'Arc De Triomphe in Paris behind Sarafina, but he is the popular choice of most of those in the street.
England's Racing Post is running a poll on which horse the public think will win the famous race and last night So You Think had polled 22 per cent of the votes.
Sarafina had only 12 per cent and Workforce and Galicova were both on 14 per cent.
So You Think has been quoted in France at 9/2 ($5.50) behind Sarafina on $5 but yesterday the money kept rolling in for the magnificent Kiwi product, who was strongly tipped to be disputing favouritism by today.
The weather in Paris is beautiful, according to New Zealand journalist Dennis Ryan when the Weekend Herald spoke to him yesterday.
"But the French may irrigate, as they usually do," Ryan said, which may not necessarily be to So You Think's advantage.