Follow Mitch's Rugby World Cup adventures in New Zealand on Twitter: @NotSweetChariot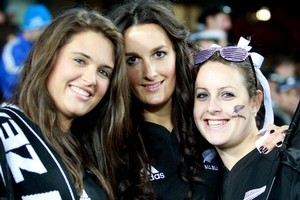 So another couple of days in Auckland, enjoying the atmosphere for Sunday's two big rugby games from both codes. The city is now firmly gripped by rugby fever with everyone in the city willing on the Warriors in the NRL grand final, and the All Blacks against Canada.
As ever, I have been taking regular 'pulse checks' on the state of the nation to see how they feel on some crucial Rugby World Cup issues. I'm sorry that I have to be pessimistic but this week's big question is needed.
If some how the All Blacks don't win the RWC who would be the second choice team of the people? I decided to ask this tough question to some Auckland locals:
"I'll go for England if the All Blacks can't win ... but it will be the All Blacks." - Fiona Watson, Howick
Fiona went for Martin Johnson's men, if the men in black somehow can't win the Webb Ellis cup come the 23rd of October.
"I suppose I'm only going with them considering I was born there, and the final a few World Cups ago when they won it and beat Australia that was special for both us expats and kiwis. If they get through the pool on Sunday they could have an easy run to the final."
But Fiona who works in a organic food shop in East Auckland, is fully behind the All Blacks.
"I think they will win it anyway regardless, Auckland has been buzzing for months now, it's impossible for them not to lose."
"South Africa would be my second choice - they play the best rugby after the All Blacks." - Daniel Turnwell, Ponsonby
Barman Daniel thought the Springboks could be a reasonable shout for the finals and could even defeat the All Blacks on the way to victory.
"I obliviously want the boys to win it just like everyone else, but if they don't I'll go for South Africa."
As he poured my cool afternoon beer on the Viaduct, he said: "they play good powerful rugby, exactly the stuff I enjoy watching. So If I had to choose it would be them."
As it stands, the All Blacks and Springboks could meet in the semi-finals if results play out in the next couple of days.
The Springboks had a slow start to Pool D, but have looked stronger as each match has gone on. They certainly look good value, betting-wise, with some sites offering odds to win outright at 8/1.
"I'll go for Ireland, I always love a good underdog, so why not them." - Kristina King, Epsom
Ex-pat waitress Kristina went for Ireland in the unlikely event of an All Blacks crash.
"I have been living with a few Irish guys since I have moved to Auckland, and they are mad rugby fans; I even seen the Irish against the USA a few weeks ago."
Kristina, a Brit, had another reason for choosing the boys in green.
"Well after that big win against the Wallabies you have to follow the underdog. You never will beat the Irish," she said.
So here you go. I am preparing you for the worst, All Blacks fans. If by some amazing coincidence you don't make it to the Eden Park final come the 23rd of October, you can have a second team to follow.
It's a pretty enjoyable experience, following a second team at the Rugby World Cup. It's a safety net if your team tends to fail in the tournament. I suggest you try it.
My Rugby World Cup has certainly been richer for following the All Blacks. Besides, I'm sure everyone will be happy as long as Australia doesn't win.