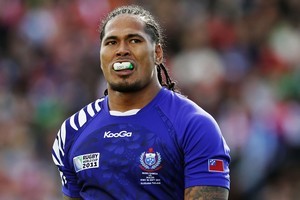 The IRB has responded to criticism following their decision to fine a Samoan player $10,000 for wearing a branded mouth guard.
Samoan winger Alesana Tuilagi wore the offending non-approved mouth guard in the side's 27-7 win over Fiji on Sunday.
Teammate Eliota Sapolu, who got in hot water for tweets criticising the short turnaround between games for tier two teams, once again turned to Twitter condemning the decision.
"You think the fact players are wearing mouth guards protecting themselves would outweigh exclusive deals to make more money!" he wrote.
"Commercialisation has unfortunately overcome all reason and rationale. $$$ first, player welfare last.
"Rules are not rules. They must be just. If Kate Sheppard accepted the rule that women cannot vote it would still be the case now. Question!"
However the IRB said in a statement the team kit rules are "well understood by the participating teams and are in line with other major sporting events".
"Rugby World Cup Limited has proactively worked with Participating Unions to educate the key principles of the Rugby World Cup 2011 Terms of Participation in order that breaches are minimalised in Tournament. This has proven to be successful."
The IRB said participating unions provided feedback during the drafting of the tournament terms of participation, and team specifications were "finalised and communicated to the teams almost two years ago".
"Teams were again reminded of the Terms of Participation at the start of the Tournament and warnings were issued during the early stages to ensure team management and players were aware of their obligations," the statement said.
While fines and warnings have been issued during the tournament, the statement said it was not Rugby World Cup Limited's position to publicise any breaches or sanctions.
"The number of breaches are, however, reduced compared to previous Tournaments and RWCL acknowledges the efforts of teams in this regard."
The decision comes as an England avoided sanctions from the IRB by suspending two coaches for Saturday's Scotland match, because they switched the ball during kicks against Romania.
According to the English Rugby Football Union, kicking coach Dave Alred and national fitness coach Paul Stridgeon "mistakenly thought that there was an issue with some of the match balls" in England's Pool C win over Romania.
England stopped switching the balls when warned during the game. After the 67-3 win, England coach Martin Johnson said he had not been aware of the problem. He later said his coaches did not ask the referee before making the switch
Rugby World Cup Limited said the RFU had taken appropriate action but "any similar breaches in future will be dealt with severely".
John Campbell, host of the Campbell Live current affairs program, is calling for public donations to help Samoa pay the fine.
He Tweeted: "So England swap the ball for conversions and the IRB does nothing. Samoa wear the wrong brand of mouthguard and get fined 10k. Incredible."
- with AP