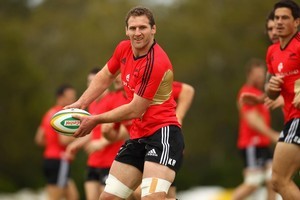 The All Black trio still without a World Cup appearance - Mils Muliaina, Zac Guildford and Kieran Read - are being herded towards ending that sequence.
Quite how the selectors manage that detail will be revealed today when the side is announced to play their last pool match against Canada in Wellington on Sunday.
Read is primed to start at No8 with medical staff confident he has recovered after damaging his ankle again at training this week.
It seems Muliaina will begin at fullback for his 99th test while Guildford's chance to start or be on the bench may depend on a few fitness tests.
Richard Kahui is a definite non-starter because of his hamstring strain while there are also doubts about Cory Jane's health after he took a knock to the head last week against France.
If they both stand down, that opens the way for Guildford, Isaia Toeava, Sonny Bill Williams and Israel Dagg to start on the wing or come from the bench.
Williams might get another shot in midfield while coach Graham Henry believes Dagg's best role is fullback so he may wait for some time from the bench in that position.
How World Cup hopeful Hosea Gear must have rued the sporting fates as he helped out at training this week.
Dagg's injury recovery cost Gear a place and while his form had been slow to rise, he might have been a better pick than Guildford who has made little impact, other than a public mea culpa about his drinking, since late in the Super 15.
Managing injuries and maintaining momentum have been the twin selection elements this week.
Read had recovered after taking a spill during training and giving himself and the staff palpitations about his tournament future.
"You can roll it pretty easy. He got a fright, we all got a fright, but within half an hour it was fine so he'll be training fully and playing on Sunday," forwards coach Steve Hansen said. "It was a lateral ligament as opposed to anything else so he's as good as gold.
"I can reassure you he will be fine and he will be playing."
Looseforward Adam Thomson was improving after the knocks he took against France but remained an uncertain choice for this weekend.
Jane was still having a few problems but Dagg had trained fully and would be fine.
"What we'd like to do is pick the core of the side again," Hansen said.
"There have been some people who are injured and there are a handful of people that need some rugby so how we do that - whether we put them all in the starting lineup or bring some off the bench - is to be discussed."
This was the match in which to address those team needs.
Read was someone who had to play but would not last a full match so there had to be adequate looseforward cover for that switch.
If necessary, Sam Whitelock could cover lock and looseforward.
Captain Richie McCaw had recovered from the demands of captaining the team to victory against France amid celebrations of his 100th test.
He appeared to take the test in his stride but Hansen was sure there had been a well of emotion bubbling away.