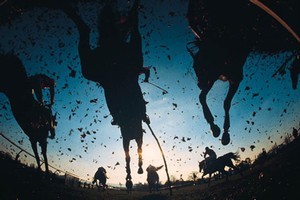 Frank Cooney One of Lets Elope's most potent weapons could prove his undoing when Sires' Stakes racing kicks off for the season at Cambridge tonight.
Last season's 2-year-old Sires' Stakes winner returns for the 3-year-old division, beginning with tonight's heat from the tricky Cambridge mile starting point.
Lets Elope is clearly the best-performed horse in the field and if he could use his blazing gate speed to lead early the race would be his to lose.
But trainer-driver Frank Cooney says that may not be the best thing for the son of exciting sire Real Desire.
"I think at this stage he is best when driven with a sit, because that is how he won the Sires' Stakes Final last season," said Cooney.
The only problem is that mile racing at Cambridge tends to be very formulaic, with horses attacking for the early lead then slowing, allowing the three-wide train to move forward and after that any horse trapped further back than midfield is in big trouble.
Which means what Cooney would like to do and what he might have to do to win tonight are two different things.
"Ideally, it would suit him sitting in the field but you don't want to be unlucky and if he could qualify for the final tonight it gives us a lot more options."
Which roughly translated means you can expect Lets Elope to be leaving the mobile arm fast and having a dab for the lead.
That has its risks and should Lets Elope become trapped three wide during a speed duel he risks making the race for one of his rivals.
But if he is able to lead he will be extremely hard to beat as he paraded looking superb at Alexandra Park last Friday and raced accordingly, storming home for an unlucky sixth in a strong field.
"And he has done really well since then, in fact I had to work him a little harder than I expected on Tuesday morning because he is so well," said Cooney.
Lets Elope doesn't face an easy task as the field is crammed with recent winners, the most impressive of which was Besotted.
He produced a powerful display to beat older horses at Alexandra Park last start and if he somehow managed to settle in front of the favourite from barrier two on the second line he will be the value in the race.
An interesting runner will be Ideal Scott, who looked to have enormous potential last season and the gate speed to use barrier two tonight so expect him to be in the finish.