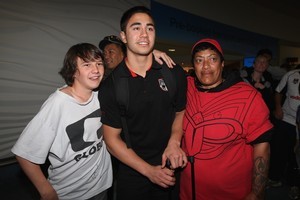 Few will be prouder of Warriors wunderkind Shaun Johnson than his dad, Paul, when the 21-year-old hits league's biggest stage this weekend.
Mr Johnson, from Whangaparaoa, raised Shaun and his three brothers - Adam, 19, Joe, 28, and Topo, 30 - by himself after he split from his partner in 1995.
Watching the halfback's electric play which sent Lewis Brown over the line against the Melbourne Storm and secured a finals berth might have thrilled the Warriors faithful, but Mr Johnson said he had similar butterfly feelings at the weekend. His came from hundreds of happy fans greeting the team when they arrived home.
"I just stood in the background. I watched all the interviews and the signings he did. It was about 45 minutes before he got through to where I was.
"There were families ... saying, 'Oh, didn't Shaun play brilliantly'. I was standing there taking it all in - it was special.
Finally, he spotted me and he barges through and gives me a hug."
During his boys' childhood Mr Johnson, 48, worked as a tool setter at a plastics firm which let him work school hours but paid him for a full working week.
"If they hadn't done that I couldn't have brought the boys up.
"I loved every minute of it. To me that was my reason and my focus - it was never hard for me.
"That was our life, all four boys played league, basketball and touch. We were just so busy with sport. They never had toys at home, never had all those video games, toy cars and everything like that.
"Their toys were just a ball and outside - and that's what they loved."
Now a successful real estate agent, Mr Johnson said he and son Adam hoped to head over to Sydney for Sunday's big clash.
CLUB FAN DAY
Today: New Zealand Warriors club Fan Day, Mt Smart Stadium from 9.30am, with a training session set to start at 10.30am.
After the run, the players will hold a signing session in the D Zone at the northern end of the ground. Entrance is via Maurice Rd and the public can enter through Gate B at the stadium's northern end.
Tomorrow: Warriors leave for Sydney.