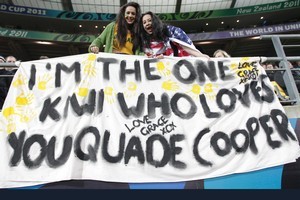 Each Monday, we bring you the best and the worst of the previous week's Rugby World Cup action. Today: The All Black captain offers an inspiration that even the competition can't ignore.
RICHIE McCAW and JOCK HOBBS
When he stood up in front of 60,000 worshippers in a commemorative 100th cap and told them he loved playing in the black jersey as much now as he did when he first put it on, you knew Richie McCaw was speaking nothing but the truth.
McCaw is a marvel. No words here could do anything to add to his legend. With his trusted back-row lieutenant Kieran Read set to return, the Kurow Kid is just going to get better the longer the All Blacks stay in this tournament.
It would have meant a lot for McCaw to be presented with his cap by one of the men who brought the World Cup back to rugby heartland, Jock Hobbs.
The former All Black and former NZRU chairman has been put through the wringer, but it was fantastic to see him gather the strength to acknowledge McCaw's feat.
It might sound cliched, but if the All Blacks are looking for inspiration when the going gets tough later in this tournament, they don't have to look much further than the man now wearing the black No 7 and the man who once wore it.
PHIL THIEL
As the Americans wandered through the mixed zone - where reporters get individual interviews with players - after their 67-57 loss to Australia in Wellington, most were probably pleased to find there were not that many demands for their thoughts on the game.
Burly hooker Thiel, however, just really wanted a chat and he wasn't going to get on the team bus until he'd had a chance to chew the fat with someone.
The 26-year-old Michigan native is loving the World Cup and was about as happy as a man can be who has been on the end of a 60-point drubbing.
The biggest difference between the majors and the minnows, he reckoned, was the ability to turn opposition mistakes into points.
He seemed like the sort of guy who would have a theory on most things, so if you see him in Nelson this week, be sure to stop and have a chat with him.
YOU, AND YOU, AND YOU
Sixty thousand people for a match at Eden Park not involving New Zealand or one of the traditional powers of world rugby. That's astonishing. You could fit the entire population of Apia into Eden Park and have room for more than 20,000 extras. After an uplifting Fan Trail walk that one observer described as "going off", it was a shame the crowd was treated to such a wretched first half. Things did improve marginally in the second, but what on earth has happened to Fijian rugby?
GOOD BEHAVIOUR MONITORS
So the Australians copped a bit of banter at Eden Park last weekend. They were shocked to learn that the locals preferred the charms of the Irish to the Wallabies.
The week before, there was some invented offence taken over a minister of the Crown allegedly indulging in a bit of neighbourly sledging.
And we're even been told not to be so mean to Quade Cooper.
Anybody who has watched a cricket or league test in Australia while wearing New Zealand colours will find little sympathy for the whining Aussies.
The abuse is relentless. For sheer feral-dom, you cannot go past the Sunday of a test match at the WACA. There you will see 11-year-olds leaning over the boundary edge screaming "f*** off you Kiwi ****" while the parents chuckle in the background, drinking Swan Lager and picking the crud from under their toenails.
Australians see it as their birthright to take the piss out of us; don't let the fun police do-gooders stop you from exercising the same rights.
(PS: Spitting and/or physical violence is NOT okay.)
TOURNAMENT DISCIPLINARY PROCEDURES
While appreciating that there is no perfect system, there just appear to be too many grey areas.
Dominiko Waqaniburotu's tip tackle against South Africa was not great, but it wasn't particularly evil either.
To effectively turf him out of the World Cup is breaking a butterfly on a wheel.
According to the IRB's press release after his appeal was rejected, "the offence was deemed to be mid-range. However, taking into account mitigating factors including his admission, his excellent disciplinary record and remorse and the absence of aggravating factors, the player was suspended for a period of three weeks."
So it was a middling offence, which Waqaniburotu admitted and expressed regret for, yet he's still chucked out on his ear.
Meanwhile, excellent USA captain Todd Clever gets no punishment after an ugly late charge on an unsuspecting Russian.
Go figure?
MANLY SEA EAGLES
No one likes them.