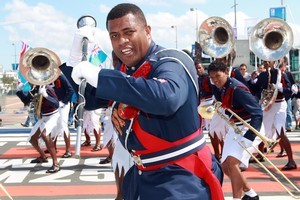 Pacifica flair will be unleashed today when Island rugby hits its biggest stage, says Rugby World Cup boss Martin Snedden.
The Eden Park clash between Samoa and Fiji will draw 60,000 - a third of the population of Samoa - the largest to attend an all-Pacific Island game.
Snedden predicted both teams would be "unshackled" after being stifled in losses last week to Wales and South Africa.
"Hopefully the Samoa-Fiji game sparks, given that it's a strong symbol of the tournament."
He said it was important for the tournament that the world should see and enjoy Pacific rugby. Crowds of fans have warmed up at spontaneous and organised events across Auckland all weekend. Yesterday the Fiji Police Band - which is not connected to the military regime - performed at the Auckland Viaduct.
"For us it's really important that the tournament showcases the Pacific Islands as well as New Zealand," Snedden said. "We have always targeted both the opening match and this match as important."
Samoa has been the adoptive team of thousands of New Zealand rugby fans.
Samoa rugby media manager Fatu Tauafiafi said the game was on a par with the previous Samoa World Cup matches in 1991, 1999 and 2003.
"It's a massive game for us, win or we are out."
Former Samoan prop Peter Fatialofa will attend the game with more than 40 of his former teammates who played in the 1991 and 1995 World Cup campaigns.
"It's going to be a great weekend for Pacific rugby when the two nations take to Eden Park - it'll be a first," said Fatialofa.
"It's a battle which I'm looking forward to."
He said the result would be hard to pick but hoped for a tight start to the game and some running rugby to finish.
"On Sunday you have two teams capable of beating anyone in the world competing against each other. My money is on Samoa, just quietly."
While Fiji's military leaders are banned from travelling to New Zealand to attend the match, Fiji will have a lot of support.
Former Fijian second-five Waisake Sotutu, who will attend the match, hoped his former teammates would come out on top, but agreed it was a tough result to call.
"Samoa are playing quite well at the moment.
"It's going to be an awesome game.
"Both teams are pretty physical - it's going to go down to the wire."
Sotutu also developed a friendly rivalry with some of his workmates ahead of the match.
"The Samoan boys have been having a go at me this week saying Samoa is going to win."
Since Sotutu retired from international rugby in 1999, he said the game had changed hugely.
"They are better coached, better resourced, there's a lot more structure and more players playing internationally."
As a result the professional environment in overseas countries had improved Fiji's international game.
"It's about that week in, week out, tough rugby."
But one thing that had not changed was the team's first-five. Sotutu played outside 35-year-old Nicky Little, who is still playing. "He's got a lot better than he used to be."