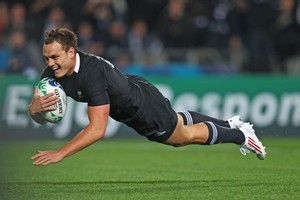 Mils Muliaina could be about to end up a trivia question: which All Black was left stranded on 98 tests? That's the way it seems if Israel Dagg keeps playing as he does in the No15 jersey; equal parts safety on defence and danger on attack.
Dagg showed last night why the All Blacks are likely to stick with him as their starting fullback for the rest of the World Cup, certainly from the quarter-
He exuded composure and contributed verve in New Zealand's key pool match against their 1999 and 2007 tournament nemesis. Those were surely the key qualities the selectors were looking for before giving him a nod into the knockout round(s).
Muliaina could be given a starting run against Canada to get to 99, especially with Dagg suffering a heavy knock which left him limping 10 minutes from the end and off the field in the 79th minute. Yet at this stage Muliaina's 100th cap, if it eventuates, is only likely to come from the bench.
There is already versatile three-quarter cover in Isaia Toeava or Cory Jane. It will be intriguing to see if sentimentality plays a part for a worthy All Blacks ambassador. Coach Graham Henry has mentioned Muliaina has been going through a "flat patch"; it might end up being a flat line in relation to his All Black career.
Dagg's penetration, passing skills and support play on attack are hard to dispute. That was demonstrated in the 21st minute when he was on hand to receive a ball from Carter who slipped some flimsy French defence.
Dagg's fifth All Blacks try in nine tests and third try of this tournament will be one of his easiest but he still had to get into position. His second try of the match required more effort three minutes after halftime. He weaved through a maze of French defenders next to the ruck and somehow emerged over the line to give the All Blacks a commanding 24-3 lead.
He should be nicknamed "CRC" the way he creates the smoothest of passages through the tightest of gaps. Adding to Dagg's CV was the final flick to Adam Thomson which opened the scoring on the left flank.
He also regularly kept his nerve which enabled passes to be delivered going into contact. His ability to handle pressure was again evident 3m from his own goal line, three minutes in.
A French drop kick hit the right-hand upright and bounced into play. Dagg could see a hybrid of French and New Zealand players rumbling towards him. He kept his distance waiting to make the tackle but the ball popped into his grasp.
Rather than taking it in and waiting for the cavalry he had the presence of mind to offload to Ma'a Nonu. He repeated that crucial quality of waiting for the right moment to pounce on the defence other times, too. In the eighth minute he made a crucial tackle after a Nonu miss.
The selectors were not sure Dagg would make the World Cup at one stage. They'll be glad he did now.