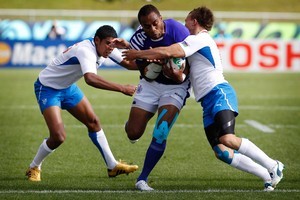 Brotherly love is tested less these days because of strict rules which disadvantage player movement between nations - and Michael and Sailosi Tagicakibau not lining up against each other up for Fiji and Samoa respectively at Eden Park today means bro against bro is unlikely to take place at this tournament unless Manu Tuilagi (England) and Alesana Tuilagi (Samoa) meet in a long-shot semifinal.
Michael Tagicakibau is injured and Campese (Fiji) and Salesi Ma'afu (Australia) look to have missed their chance but did meet in Salesi's debut last year. Mike (Samoa) and Tana Umaga playing each other in 1999 was another example of this rare feat.
Perhaps rarest of all was Graeme and Stephen Bachop playing each other twice in 1999 for Japan and Samoa respectively. Both had endured three-year stand downs from the All Blacks, having played in black together four times in 1994.
Stephen Bachop says the backyard background made for feisty contests. He's just pleased Samoa won in Wrexham, Wales, at the 1999 World Cup after losing a warm-up in Osaka earlier that year.
"We talked in the week leading up to the World Cup match - we were in the same hotel - but we ceased chatter the day before the game. It's not like we were marking up at halfback and first five but I found I could read Graeme's play quite well on defence.
"Mind you, it wasn't like we hadn't played each other plenty before, like when I was at Otago and Graeme was at Canterbury. It was nothing too new. Your loyalties change pretty quickly. Whoever you're representing takes precedence over your brother."
Stricter eligibility rules since 2000 make sibling match-ups unusual these days. The previous three-year stand down was replaced by a "one country only" policy. These days, if you have played or been on the bench for a national first XV, second XV or sevens team, you must represent that country your entire career.
While the rule deserves plaudits for consistency, Stephen Bachop finds it harsh: "I'd return to a three-year stand down. That seems fair. It means you can still make the most out of a Jerry Collins or a Mils Muliaina after their All Black playing days. If they're good enough, they should be allowed to go back and help. It seems unfair on smaller nations; bigger teams are happy to use those players early and dispose of them."
Former Samoan captain Peter Fatialofa also disagrees with the rule but accepts the World Cup is a lure to bring the likes of Paul Williams and Kahn Fotuali'i into the Samoan fold, albeit because they missed All Blacks selection.
"Give a guy a chance to play in the World Cup and the answer is almost always, 'hell, yeah'. In the end, I guess we're lucky because we can have two bites of the cherry. If we don't make the All Blacks, we can play for Samoa. Unfortunately those who make the All Blacks briefly can't play elsewhere."
Fatialofa cites his nephew, Kevin Senio, as an example. Senio got four minutes for the All Blacks against the Wallabies in 2005, meaning any Samoan ambitions were dashed.
"Rugby's not the winner under the current system," Fatialofa says. "I reckon if you play no more than five games, then you should stand down for a year before playing for another country - but it can only happen once. You can't go back and forth."
Why not choose Samoa to start with? "It comes down to finances," Fatialofa says. "The All Blacks would be first choice for anyone."
Former Auckland and Samoan lock Mata'afa Keenan is one who does not regret missing All Blacks selection. He was closest, but injured, when the Baby Blacks played France in 1986. Keenan got the Samoan call-up aged 31 courtesy of a late injury.
"At Auckland training, my mate [and All Black of Samoan origin] Joe Stanley nearly fell over when I explained. He said 'I always thought you were a bloody Raro', because I was born in Rarotonga.
"However, I didn't make the decision straight away. I didn't want to be a Johnny-come-lately just to get to the World Cup but it's a decision I'm glad I made. I got to play four years of international rugby."