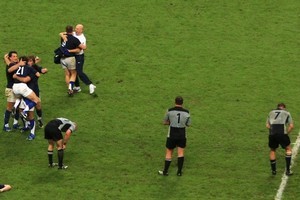 Let's go back to Rugby World Cup October 6 four years ago.
It's Aix-en-Provence, a delightful town half an hour inland from Marseille and the first quarter-final day of the World Cup.
England have just scrummed Australia to Marseille airport, and moved into the semifinals where they'll meet the winners of the next last-eight contest in Cardiff a few hours later.
The phone rings.
"Right, here's the jobs we need from you two tonight," said she who was running the show back at HQ. "Go and find a bar in the middle of that town.
"We want one of you to (here insert routine task, no problem) and we want the other one to write a piece on what it's like to be in a French bar watching the All Blacks stuff France." Yeah, sure, no problem.
A few hours later, young women were dancing on the tables (no, it wasn't that sort of bar), Tricolor flags waved, the patrons in the packed joint roared out La Marseillaise and "Allez les Bleus" chants filled the night, as the clock counted out the All Blacks once more.
A story was written and dispatched, what is known as a colour item on the flavour of what was a terrific, boisterous night a long way from Cardiff. It is yet to see the light of day.
And that's one reason why thinking the French are toast before a ball has been kicked is asking for trouble.
Yes, there have been days when they've played like they would rather be elsewhere. A 50-point flogging at Athletic Park in Wellington in 1999 in that old stadium's final hurrah leaps to mind.
They might be run over tonight. Then again ...
You can imagine Marc Lievremont and his manager Jo Maso - seemingly in the job forever, but whose links to the All Blacks date back to touring here in 1968 in a team of thrilling backs and bruising forwards well up for it should things get tasty, as they did - pointing out the merits of adding another entry to their list of great days against the All Blacks.
Bastille Day, 1979; the 2-0 series victory in 1994; World Cup glories of 1999 and 2007. Fancy joining that lot, lads?
The French were understandably unimpressed with the notion they wouldn't be massively unhappy at losing to stick in the Northern Hemisphere half of the draw.
A better way to look at it might be: win tonight and imagine the wave of self-belief that would course through the group.
Then beat Scotland, Argentina or England - their traditional cup bete noire, played three, lost three - in the quarter-finals, and they must arrive at the semifinals against, probably, Australia or South Africa feeling rather good about themselves.
And should they lose tonight, so be it. The fallback position? It's far from the end of the road.