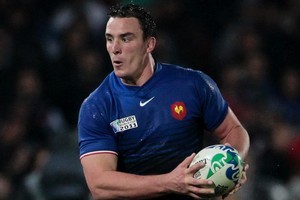 Rugby World Cup player Louis Picamoles is a big lump. He envelopes the chair in the foyer of his hotel and when he stands he doesn't leave much room for others around him.
If that scenario plays out in tonight's duel between France and the All Blacks, Picamoles and his coaches will be tres content.
National supremo Marc Lievremont spied Picamoles' frame and talent a few years ago and most of the detail suited the coach's demands.
There was one issue though, Picamole was just a little too fond of the food and not so keen on training to remove some excess.
His friends were McDonald's and Coca-Cola rather than sit-ups and interval training.
So Lievremont gave him the ultimatum. The No 8 could continue with his good living and life with Toulouse, but that was where his rugby life would start and end.
If he wanted to knuckle down, set some different goals and dedicate himself more to the life of a professional player, he could be a long-term member of the French squad.
The over-to-you message sank in.
"Now he is fit, sharp and you have never seen him like this before," a regular team observer said this week.
"Louis has taken heed of the messages and sometimes that can be tough for someone who is only 24. But he has great potential and I think you saw a bit of that the other day when he played so well against Canada."
Picamoles wants to be a No 8, but when he moved from Montpellier where he had been playing alongside Francois Trinh-Duc and Fulgence Ouedraogo, to Toulouse last year, he was used more on the blindside.
The club's coaches thought that worked better for the team pattern as Picamoles' speed and power allowed him to take several defenders out of the game. They felt that role was a better fit as Picamoles refined the tactical aspects of his game.
Lievremont sees the potential and believes he is a better No 8 prospect than another rookie, Rafael Lafinka, or the veteran Imanol Harinorduquy.
"The coach wants someone who is a bit like Buck Shelford, able to gain a metre or two at a time in the hard slog, another player like William Servat who is able to win those little advantages which help in the forward scraps," the observer said.
Picamoles loved running with the ball, but there was concern that sometimes his brain would be thinking three moves ahead about how he could use that possession and he would lose the ball. That annoyed Lievremont and had been one of the technical foundations he demanded Picamoles improve.
The No 8 stands 1.92m and nudges the scales around 120kg. He is a serious piece of human engineering who is coming up for his 20th appearance in the Tricolores uniform.
He is a work in progress, but as Lievremont points out, he was in the international squad three years ago and should have soaked up a great deal of experience and understanding in his time with the team.
Now is the time and the stage for Picamoles to deliver. He has the looseforward experience of Julien Bonnaire on one side and his brilliant Toulouse teammate and captain Thierry Dusautoir on the other.
The trio can work off a gnarly front five and, if Picamoles and Dimitri Yachvili can work in concert at the base of the pack, the French could make a useful start against the All Blacks.