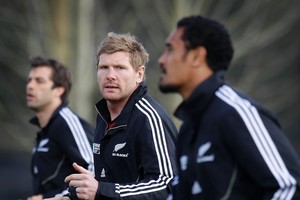 All Black Adam Thomson's Rugby World Cup jersey will have No 8 inscribed on the back, but that is purely for programme and identification purposes.
Nominally he will start tonight's match in that role, but it's likely for set-piece duties that he will switch with skipper Richie McCaw.
Thomson has been picked at No 8 for the All Blacks once, when they thumped the Boks 40-7 at Wellington this year.
But for the rest of his intermittent 23-test career he has switched between open or blindside flanker.
He damaged his elbow and upper arm badly before the World Cup and needed to pass a medical exam to confirm his stay with the team.
That done, he resumed against Japan on the openside when McCaw withdrew late with a calf strain.
With that problem fixed, it seemed Thomson would sit on the bench tonight to cover the loose-forward roles.
However, he was picked instead of Victor Vito at No 8 with the selectors also deciding to ignore a specialist loose forward on the bench.
McCaw and Thomson are twin scavengers and the coaching staff may have seen a niche for that skill in the way games have been refereed at the tournament.
"The referees tend to have been giving a bit more latitude to those fetchers," Thomson said.
Thomson was part of an All Black side which tangled and lost to the French at Carisbrook two years ago, on an evening when he broke his hand early and had to be replaced.
He has not played them since, but that brief encounter gave him an idea about the passionate fury France bring to their work.
He has also been working studiously to refine his skills at the breakdown, to give match officials less chance to ping him for infringements.
Thomson was sure every player at this World Cup who gets embroiled at the breakdown would have uneasy thoughts about some refereeing decisions.
"You've got to be very careful at the breakdown.
"Obviously at a tournament like the World Cup, with close games, things like penalties, and refs' decisions are crucial," he said. "So the team which can adapt as quickly as possible to that is the team which comes out on top.
"But we have been doing a lot of review work, making sure we are correct in what we are doing.
"We go into this game focusing on the breakdown because it is a key area and we are pretty keen to get it right."
The All Blacks had been looking at methods to mesh the loose-forward roles, he said, but wanted any changes to be minimal.
"At the set piece there are a few tweaks in what we do but once that is over we concentrate on just being loose forwards and it's worked quite well so far," Thomson said.
He was quick to concede that France had a strong loose-forward trio.