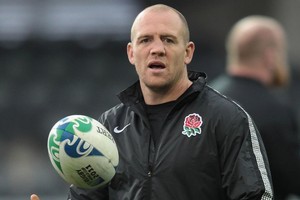 Mike Tindall returned to England's starting lineup and a barrage of questions yesterday ahead of tomorrow's clash with Romania.
Having been rested from last week's error-strewn win over Georgia, Tindall faced the media for the first time since his now infamous night out in Queenstown more than a week ago.
But manager Martin Johnson insisted all that could be said about the off-field distractions had already been said, intercepting the questions thrown at his second five-eighths as consistently as he used to catch lineout ball for his country.
"We've played since then," Johnson said. "We've put it to bed."
Tindall's return in place of Shontayne Hape was one of seven changes to the side who ran in six tries to beat Georgia 41-10 but conceded a string of first-half penalties and soft turnovers.
"We weren't happy with the game on Sunday," Tindall said. "This week's been outstanding. We've been a few men down but all the training days have been really good; really sharp and a big step up from the last two or three weeks."
Mark Cueto will start his first match after missing the wins over Argentina and Georgia because of a back problem, replacing Delon Armitage on the wing for the game at Dunedin's Otago Stadium.
Jonny Wilkinson is back at first five-eighths outside Ben Youngs. The remaining changes were in the pack, with Alex Corbisiero making his first start at loosehead, Steve Thompson replacing Dylan Hartley at hooker, Louis Deacon coming in for veteran lock Simon Shaw, and Tom Croft replacing Tom Wood at blindside.
James Haskell will make a second straight start at No8 with Nick Easter not considered because of a back injury.
Johnson said this week's debriefing and analysis had addressed the problems in the win over Georgia, with frustration rather than anger his main emotion when looking back.
"I always look angry, even on a good day," Johnson said. "It was a good, honest review of where we are and what we need to do to get better.
"But it's no good saying you've had a good training week and not doing it out there."
- AP