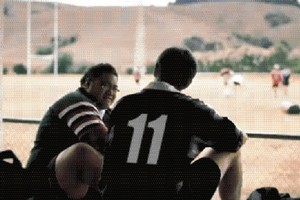 Zac Guildford's nocturnal habits kept the viral media busy yesterday - kicking around a gag first coined by Dom Harvey on radio station The Edge.
Hey Zac. We're having a party at Eden Park on Saturday night. You should come. But don't bring your mates - you know the ones:
Lost-the-ball-forward Zac
Throw-rubbish-passes Zac and
Can't-catch-the-high-ball Zac
If you've seen a good one, forward it to us at supersport @nzherald.co.nz
The Tindall Stag-Do I
Mike Tindall will catch up with his missus Zara in the next day or so. As she's descended from a long line of serial adulterers and Germans, she'll be well-honed on the most efficient excuses for out-of-wedlock snogging and random bar-boob-snuzzling.
So CupShorts' team of excuse-hatching malcontents came up with a couple of fresh ones for Mike to consider.
1) She was an old family friend. In fact, I'd known her for hours.
2) It wasn't me, it was another ugly bastard with a bent nose.
3) What goes on tour stays on tour.
4) I was really drunk and she looked like you. From behind. In a certain light.
5) I wanted to buy you some lingerie but I needed to check the size.
6) That's nothing: You should have seen the one Johnno pulled.
The Tindall Stag-Do II
The TSD could always take a tip from these infamous shaggers:
Newt Gingrich (Bible-thumping US presidential hopeful caught in an affair): "There's no question at times of my life, partially driven by how passionately I felt about this country, that I worked far too hard and things happened in my life that were not appropriate".
John Edwards (US Senator who had a child with another woman while his wife was dying of cancer): "I started to believe that I was special".
Or, best of all, Jon Bon Jovi: "Infidelity is part of the job".
The global game
Yesterday's photo of a World Cup advertising billboard in Burkina Faso - interestingly, it featured renowned All Blacks Hika Elliot, Stephen Donald and Tom Donnelly - had us wondering what the target market would be.
Answer: the Ouedraogo family. Fulgence Ouedraogo was born in Burkina Faso and is out here with the French squad. The only other member of the Cheese-Eater squad not born in the land of Asterix is captain Thierry Dusautoir (Cote d'Ivoire).
For the record, here's the full list of importers and exporters in World Cup squads:
Importers
15: Samoa (all from New Zealand)
12: USA
11: Italy
10: Japan
9: Tonga
8: England
7: Australia, Scotland
5: Canada, Fiji, Namibia, Wales
4: Ireland, New Zealand
2: France, Russia
1: South Africa
0: Argentina, Georgia, Romania
Exporters
38: New Zealand
13: Australia, South Africa
6: Argentina, England
5: American Samoa, Samoa
4: Tonga
3: Fiji
2: Hong Kong, USA, Zimbabwe
1: Burkina Faso, Canada, Cote d'Ivoire, Israel, Kenya, Mexico, Scotland, Uzbekistan
0: France, Georgia, Ireland, Italy, Japan, Namibia, Romania, Russia, Wales
White lines
The old gags are often the best and this one was doing the rounds yesterday. (When we've seen it in the past, the subject has always been England.)
"BREAKING NEWS: Wallabies rugby practice was delayed nearly two hours today after a player reported an unknown white powdery substance on the practice field. Coach Robbie Deans immediately suspended practice while police were called to investigate. After a complete analysis, experts determined that the white substance unknown to players was the tryline. Practice resumed after special agents decided the team was unlikely to encounter the substance again."
Pardon moi?
Daniel Carter, always sharp on his feet, yesterday did a neat job of sidestepping a linguistic dilemma. A Snail-Hunting journalist asked Carter if he would mind answering a few questions in French.
"It's been a few years since I was in France and my French is not the best so I can't give you my opinion of the French side in French. I'd love to but I think I have said enough about them and how dangerous they are."
Don't feel too bad about it, Dan, everyone knows they all speak English anyway.
Thorny question I
Sometime Bronco Brad Thorn was asked about the 13-man code competition that is drawing to its conclusion across the Ditch.
[To be read in an impossibly gravelly voice:] "It's huge for me to see the Broncos go through. I'm proud for Lockyer, I hope it is not his last game - I hope he has one more to go."
As for the two dominant play-makers he's played alongside, Daniel Carter and Darren Lockyer: "They're both highly intelligent men, highly competitive and have great personal pride in their performance and great passion for their team. They're a couple of country boys, very focused, who enjoy a laugh and social time as well."
Thorny question II
Thorn, 57, was asked about the trend in the All Blacks squad for locks to cover as speedy loose forwards. One journalist mooted: "Weren't you considered?"
"No," he deadpanned. "I was at the back of the queue."
But hey, if there's ever a shortage of props ...
Ted talks too much
All Black coach Graham Henry wanted to cut his media time short yesterday: "When you talk all the time, people turn off. So perhaps it's time I left."
Or was he talking about the impending termination of his coaching reign? ...
Kiwi Keith
Not many subjects escaped the viewfinder of legendary photographer Peter Bush.
But one which still gives him a bit of grief was his monumental failure to grab a frame of disgraced prop Keith Murdoch on the aircraft carrying the All Black away from the team - and out of the game - forever.
Back in 1972, Murdoch was sent home from Cardiff after a never-quite-explained, late-night incident involving a hotel security guard and - presumably - quite a lot of grog.
Bush recounted the story as a curtain-raiser to an exhibition of his photographs, Hard on the Heels. The show, down on the Viaduct in a faux AB-type clubroom, is certain to pack in World Cup punters.
But back to the one that got away: the lean lensman had managed to talk his way on to the Qantas 747 where one K. Murdoch had been hastily added to the passenger list.
Sadly for Bushie, Heathrow ground-staff escorted the volcanic New Zealander up steps at the rear of the aircraft, an entrance reserved for royalty, British cabinet ministers and fugitives from the law.
The pilot, possibly alarmed at the camera gear Bush was aiming at the rear of the cabin, intervened and threatened to call security. Bush complained but got the heave-ho.
Our man suffered more indignity as Pommie scribes chided him for his blunder in not buying a ticket for the first leg to Frankfurt.
"You would have made enough from that to get a first-class seat to New Zealand," they chortled.
Bush's defence of his miserable night was the overwhelming sense of injustice he felt for Murdoch.
"And that," says the master snapper, "was the last I saw of Murdoch."