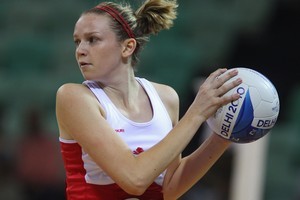 Netball bosses have emphasised the decision to grant Canterbury Tactix special dispensation to sign a second import is a one-off solution to a unique problem and does not set a precedent.
The ANZ Championship board yesterday approved an application from the Tactix to sign a second ineligible player with English shooter Jo Harten.
With no provision in the rules to do so, the board have agreed to make an exception in recognition of the extraordinary circumstances faced by the Christchurch-based team over the last few months, after the devastating earthquake of February 22.
The damage to the city and ongoing aftershocks have made it difficult for the organisation to lure players from other centres, while some existing players, including defender Charlotte Kight, have turned down contracts.
The Tactix have announced just three signings for next season - Harten, Silver Ferns shooter Anna Thompson and former Pulse defender Bessie Manu.
With the Tactix struggling to put together a competitive roster, ANZ Championship general manager Anthony Everard said the league felt compelled to help out.
"We are satisfied that the Tactix have explored all options in their endeavours to contract players, and recognise that given the unprecedented circumstances they are experiencing, there is a role for the league to play via the provision of this support."
While they empathise with the difficulties the Tactix face, several franchises are said to be uncomfortable with the league making exceptions, saying it creates a precedent.
However New Zealand Netball Players Association manager Tim Lythe is confident the league's actions have not created any loopholes.
"It was quite an extraordinary event that caused the disruption and I don't think any team can argue they face similar challenges," said Lythe.
New Tactix coach Leigh Gibbs said it was a relief to get the green light to sign a second import. It is believed the Canterbury side have been in talks with three potential imports, but Gibbs denied they had a player lined up.
It is believed English defender Ama Agbeze is the frontrunner for the second spot given her previous experience in the league, with young England stars Stacey Francis and Serena Guthrie the other options.