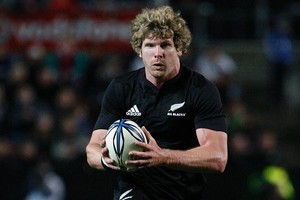 Thomson, the Otago loose forward, was named at No 8 to take on the French tomorrow night in Auckland, after starting on the openside flank against the Japanese last week.
Thomson will have to use his running game more off the back, something which has slowly developed in the past couple of seasons.
He was a master at the turnover when he first made a name for himself in the national side, and said yesterday that role may coming back into vogue.
"I think this World Cup has shown players who can get on the ball legally . . . that there is a bit of a shift back towards those players now. The referees tend to have been giving a bit more latitude to those fetchers,'' he said.
"I have seen quite a lot of success for those players to get on the ball and get penalties. I think it is starting to swing back that way which is good.''
Thomson will be in for plenty of work to do on Saturday night, and will have to keep his head as the teams dispute possession.
"You've got to be very careful at the breakdown. Obviously at a tournament like the World Cup, with close games, things like penalties and refs decisions are crucial. So the team which can adapt as quickly as possible to that is the team which comes out on top.
"But we have been doing a lot of review work, making sure we are correct in what we are doing.''
Thomson (29) played at No 8 against South Africa in the Tri-Nations in Wellington earlier this season, and coach Graham Henry said he and captain Richie McCaw would mix positions, especially in packing down the scrum during the game.
Thomson was not in the side which lost to the French at the World Cup four years ago, although he has tasted defeat against the French, being part of an inexperienced team which lost at Carisbrook in 2009.
That was not a great night for Thomson as he left the field early with a broken hand.
"We were a young team. Being like that we probably did not know the passion of the French and the physicality they brought to the game.
"But that will undoubtedly help me for this one. I know exactly what they can bring and I'm looking forward to the challenge.''
- APNZ
- APNZ