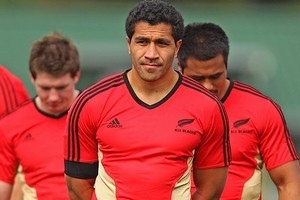 Sentiment shouldn't come into it when looking at the big picture, and the All Blacks' selectors were able to brush sentiment aside in selecting Israel Dagg ahead of Mils Muliaina at fullback to face France on Saturday in probably the most crucial match of the Rugby World Cup.
There's a distinct possibility Muliaina will be stranded agonisingly short of playing 100 tests for the All Blacks, a mark skipper Richie McCaw will bring up on Saturday.
Muliaina could get a run next weekend against Canada but it's hard to see him, injury notwithstanding, bringing up the century before heading off to play in Japan after the World Cup.
Dagg is clearly the best fullback at the moment, and his selection against France in the strongest-possible All Blacks' side proves that, and there is little room for Muliaina on the bench once the playoffs start. Only three backs generally make up the seven reserves and these are normally taken by a halfback, first five-eighths and outside back.
Dagg's form has been compelling since recovering from a serious thigh injury. He was excellent in his first outing for the All Blacks this year against South Africa in Port Elizabeth and sprightly in the World Cup opener against Tonga. Muliaina was due to get his chance to stake a claim for the No 15 jersey last weekend against Japan but succumbed to a hamstring strain.
Coach Graham Henry acknowledged it was a difficult decision to omit Muliaina from the playing squad to meet France but they needed to be mindful of the primary objective.
"The selection is on form at this particular moment.
"I think our job is to make sure we do the best every week that we can. ... Our first decision is the team comes first, and the first guy to say 'that's the right way' is Mils himself. Hopefully we can do both."
Centre Conrad Smith has also been involved with a lot of Muliaina's career and he didn't share the view it would be a tragedy if he fell short of the milestone.
"It would be for him but it won't make any difference for how I hold the guy," said Smith, who played his 50th test against Japan last weekend. "It's a number. The guy's a champion and just to get to that number is pretty amazing. Other people will make a big song and dance about it but to me he's someone I will still respect for however long I play the game."
Smith is right. Only 18 players worldwide have brought up a century - McCaw will be the 19th - meaning thousands don't get anywhere close.
Wales' Martyn Williams is presently stranded on 99 caps - he also played four times for the British & Irish Lions - and France's Raphael Ibanez and Ireland's Peter Stringer sit on 98 with Muliaina. Australian lock Nathan Sharpe is the only other player who has the chance to bring up the ton at this World Cup and will play his 97th test against the US tomorrow night (Friday).
Dagg's selection wasn't the only one full of intrigue. Piri Weepu was given the nod at halfback, with Andy Ellis on the bench and Jimmy Cowan left out of the playing 22 altogether.
Weepu has found form after a patchy Super 15 campaign interrupted by injury and benefited greatly from pre-World Cup training sessions with sevens' coach Gordon Tietjens. He provides creativity and a good kicking game and the added benefit of being able to slot into first five-eighths if needed.
"He's a quality player, and gets the opportunity to show that quality," Henry said of Weepu. "He's prepared very well. He's a different beast now than he was a few months ago. We're looking forward to him performing."
Dan Carter has recovered from his back injury sufficiently to start in the No 10 jersey, Cory Jane and Richard Kahui keep their places on the wings and Adam Thomson starts at No 8 with Kieran Read (ankle) still injured.
- APNZ