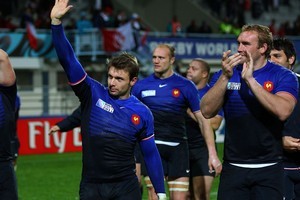 There has been a bit of talk this week about the French selecting a "B" team to face us in the Rugby World Cup, but that type of talk makes me worried. Last week's big win over Japan had everyone in raptures over how well the All Blacks played.
But it's a false sense of security because Japan weren't great opposition and the tries were easy. That's not what the Rugby World Cup is about.
Much of the talk this week has been about a French halfback being selected at first five-eighths.
Well, if Daniel Carter went down injured, his All Black replacement would be a halfback too.
Let's be realistic, I like Colin Slade, but he hasn't played well.
Piri Weepu would be our backup first five-eighths. And that would mean we're doing the same thing as France.
When it comes to France: be wary.
Their best players are on the bench. Their starters won't play that long, but they'll lull us into a false sense of security - and then we won't play well.
People have been telling me all week: "France are putting out a B team." I say that worries me more than if they're putting out their top team.
Because for their top team our boys would be champing at the bit.
Others have said to me: "There's no pressure for this game". Because if the All Blacks lose they'll potentially get an easier draw.
What I say is: "We don't lose games." We're going to go through unbeaten.
All this "you can lose a game here, you can lose game there" stuff is rubbish - the moment you start playing that way you'll come second.
The All Blacks' game plan against France will be to take them on up front - and win - and get points on the board early. Then they'll settle down and play some good rugby.
So who is New Zealand's biggest threat at this tournament? Well watching over the past week, it keeps changing.
Right now I have to say South Africa. Defensively they're so strong. Fiji played very well against them, yet they lost 49-3.
This time around, New Zealand has embraced the World Cup like no other host country ever has.
We've exceeded expectations. There were Ranfurly Shield-size crowds for the games in Invercargill - and Whangarei was sold out last night for Japan against Tonga.
New Zealanders want to see these teams and they want to see the minnows - some of them are starting to feel their oats, and playing pretty well.
Give it another couple of cups and there could be some huge upsets.