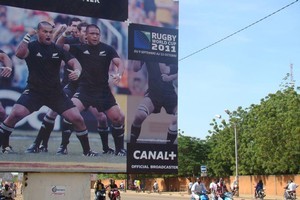 Bokke I
A story about Bakkies Botha reaches our desk. Apparently the boerwoers-chomping lock was sledged by a player from the Lions during the 2009 tour. A brave Lion asked: "Hey, 60 minutes are up. Don't you usually go off about now?"
Bakkies smirked: "Ja, but the coach likes me to play 80 minutes against the smaller teams."
Bokke II
South African No 8 Pierre Spies has been keeping us informed about life in the Bokke camp via Twitter: "Just had some Nando's for lunch to remind us of SA!"
No need to eat Nando's for a reminder of SA, mate - just head over the bridge to Browns Bay.
Bokke III
South Africa square off today with Namibia. Famous Namibian-born Springboks include Jan Ellis and, more recently, Percy Montgomery. Curiously the Namibian team are known as the Biltongboere.
Bokke IV
Tenuous South African newspaper intro of the month:
"The Springboks flew to the North Island of New Zealand yesterday knowing they might have to beat Australia and New Zealand before reaching the Rugby World Cup final - just like the Hobbit had to face the dreaded Orcs in Middle Earth in JRR Tolkien's Lord of the Rings, which [was] filmed in New Zealand."
YES WE MADE A BLOODY MOVIE ABOUT HOBBITS! GET OVER IT!
Wilko's words
England's Jonny Wilkinson sees parallels between their 41-10 win over Georgia and the 36-0 loss to South Africa in 2007.
"The 36-0 sparked a path that we had to go down and thankfully we did. It's the same kind of energy now, not in that respect [of having lost], but doing what we do better, understanding the mistakes we made and knowing that ill-discipline like that in a World Cup is going to cost you."
No7's 100, I
His Richieness becomes the first All Black to play 100 tests on Saturday.
Our chums at nzherald.co.nz asked some New Zealand rugby greats and our own rugby writers to rate his career.
Buck Shelford: "His longevity as a player has been outstanding considering he gets bashed up as a captain." Rating: 10/10
For all the experts' words, go to nzherald.co.nz/rwc.
No7's 100, II
Not everyone was convinced that His Richieness would go all the way as an All Black. When he first made the side in 2001, one of McCaw's predecessors in the black No 7 jersey, Josh Kronfeld, voiced astonishment that the selectors had gone for a bloke he'd never heard of, who had played zero Super rugby games. "You might just as well give All Black jerseys to everybody," Kronfeld said. "The fact they pick a guy off one provincial season is bloody incredible."
(Other great Kronfeldisms: On Phar Lap - "That nag will win nothing"; on Michael Schumacher - "Stick to driving taxis, son"; On Richard Pearse - "Powered flight? Who would want it?")
Video nasty
The All Blacks sat through a video horror show yesterday, with many of the side seeing, for the first time, footage of the Cardiff quarter-final exit from 2007. "For a lot of us that went through that experience we hadn't spoken about it since," said Keven Mealamu. A lot of us still can't speak about it either, Kev.
Brothers in arms
Family reunions can often be awkward, and none more so than the one that looms for the Tagicakibau brothers, Samoa winger Sailosi and Fiji winger Michael on Sunday at Eden Park.
"If called upon it will be a special day for me and my family," said Michael, who at 26 is two years younger than Sailosi.
The Auckland-born brothers had dinner at mum and dad's place on Monday, but there was little banter. "It felt a bit weird, a bit awkward to be honest," Sailosi said. "We tried not to talk too much about rugby. I think we'll leave it until after the game on Sunday."
As ever, there are more than two brothers involved: "There's a lot at stake and hopefully we'll both get a chance," Sailosi said. "I'll be playing for the 14 brothers next to me for the win, and hopefully I'll be happier than Michael. After the game we can be blood brothers again."
Here's hoping the coaches do the decent thing and select both of them, giving Christmas dinner in the Tagicakibau household a boomer of a conversation opener.
Conspiracy corner
Spotted on the corner of Albert and Custom Sts: Bobby Skinstad deep in conversation with Jonathan Kaplan. No word on a brown envelope passing between them ...
TSD I
The best line from the Tindall Stag-Do affair came from the nation's least-favourite bouncer, Jonathon Dixon.
"If the Queen wants someone to give him a hiding, she should give me a call."
Dixon might have good cause to back himself - he clocks in at 124kg and 198cm, compared with Mike Tindall's 110kg and 185.3cm. Mind you, it's hard to see how he could do any more damage to Tindall's nose.
TSD II
The second-best line came from an unknown Australian in the bar at the time of Tindall's boob diving: "You're married - pull your head in, mate."
You know you're out of order when an Australian gives you morality lessons.