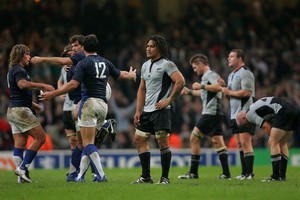 The French Rugby World Cup team which will run out to face the All Blacks at Eden Park on Saturday night is no "B team" and will be a real danger, according to the two teams and French fans.
Both teams have fended off questions about the French team's strength after the British-based rugby writer Peter Bills labelled it "second string" in yesterday's Herald.
French winger Vincent Clerc said it was obvious the selections didn't match certain commentators' ideas of who the best players were.
"But for the guys that have been chosen that's not really their problem," Clerc said.
"They're here to do the best they can in the World Cup and they've got to attack this game like any other game in this cup."
All Blacks assistant coach Steve Hansen was asked about the selection repeatedly at a press conference attended by a large contingent of international media yesterday.
"I think it's a really good side. And their coach has picked what he thinks is the best team for this competition. We'll treat them with the utmost respect," he said.
Ireland's victory over Australia has meant the loser of Saturday's match will probably face Northern Hemisphere teams on the road to the final.
French rugby fans have also dismissed the idea that their team or its selection are the equivalent of a white flag being raised.
Louis Bazy contacted the Herald to say reason could not be found in Lievremont's unpredictability. "He has never chosen a true first team. He always changes players in a manner that defies logic ... I hope I'm insulting a genius that will win us the World Cup, but I very much doubt that."
Eric Blachere said French players would give "200 per cent" during Saturday's game, and manipulating the draw made little sense.
"What's the point to do so, to face England in the quarter-final - a team that France is unable to defeat in RWC key game?"
Meanwhile, the French rugby team held a press conference yesterday at their Takapuna base.
And - just like Kiwi women - they know they've got something special in captain Thierry Dusautoir.
He was rated one of the most handsome men at the Rugby World Cup by the Woman's Weekly staff in a ranking this week for the Herald. Winger Vincent Clerc, 30, looked a shade gleeful yesterday when asked about what the team had made of that. Through an interpreter the chatty winger said the French were known appreciators of beauty.
"I completely agree, the whole team thinks Thierry's one of the best-looking guys in the world."