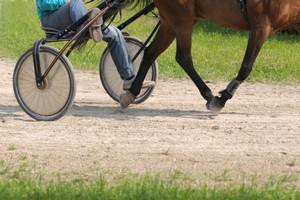 Harness racing bosses aren't hitting the panic button over the latest in a string of meetings lost to the industry.
But they admit the abandonment of the Forbury Park meeting scheduled for Friday night is not a great confidence booster for the industry.
The Forbury meeting is the fifth harness racing meeting to be abandoned in the past three months because of a lack of horse numbers, with two others at Addington lost to heavy winter snow.
That costs clubs turnover, while owners, trainers and drivers are all denied income at a time when many industry participants are already struggling.
Harness Racing New Zealand general manager Edward Rennell says Friday's loss is another blow but he hopes the problem will soon improve. "It comes about because of a combination of things.
"We have Tuesday meetings clashing with Fridays in the same area, which stretch horse numbers.
"Then we have had some tough economic times which means some horses aren't being put back into training and we have a really brutal winter.
"Overall it hurts, but we are not getting too down about it because I can see it improving very quickly."
More than 200 horses were at the workouts in Canterbury alone last weekend, meaning plenty of fresh blood will be pumped into race fields soon.
"We are seeing a seasonal winter dip with 2 and 3-year-olds racing in June and July chasing concessions wins but they disappear for August and September.
"But those horses start to come back into the system now and, of course, we are getting the open-class horses back, too."
Rennell says there is no silver bullet to solve the problem of filling fields with some owners selling their stock overseas, while some breeders are leaving broodmares empty.
"Remarkably, I think it is a great time to breed a horse because the demand from Australia is strong and should just get stronger," said Rennell. "Stakes at Addington are looking good for this season and Alexandra Park has stayed strong, so while it has been a tough time for a lot of people there are also a lot of positives."
Rennell says harness racing moving away from Tuesday meetings later this season should reduce the clashes which have affected so many meetings.
"I think we just stretched things a little too far at the start of this season dates wise but that will change under the new dates calendar."
What will also change is the attempt to reignite Saturday night harness racing, which now looks dead in this country.
Four meetings scheduled for Saturdays this spring have been moved as HRNZ walks away from the concept, which was trialled with a view to encouraging betting overseas, especially to new markets in South Africa and Europe.
"The Australian TAB has said they don't need the Saturday night product so at this stage we won't be pushing it any more.
"We still have a couple of Saturday meetings at Addington that will go ahead because of bookings already made but long-term Saturdays are on hold because the turnovers weren't great," said Rennell.
Saturday used to be the busiest night of the harness racing week but the change to Thursdays 11 years ago has been a good fit, meaning harness racing gets an earlier crack at punters' pay packets.
And with saturation racing from around Australasia on Saturdays, punters and their wallets can be suffering from severe fatigue by Saturday night.
Meanwhile, the largest Spring Cup field in a decade will kick off the open-class season at Alexandra Park on Friday night, with 12 starters for the $25,000 feature.
Most are being set for the New Zealand Cup, nominations for which close at 3pm today. Addington officials are expecting around 40 horses to be nominated for the great race on November 8.
DATE DROUGHT
* Another harness racing meeting has been abandoned this week.
* Forbury Park's Friday fixture is off because of a lack of horses.
* Harness racing bosses are not panicking, saying the problem is seasonal and will be addressed by the new dates calendar.