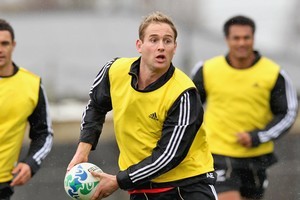 Quite how much pain the All Blacks are carrying into their Rugby World Cup clash with France this weekend became apparent when halfback Andy Ellis had to stop himself from calling it a grudge match today.
The scars of that quarter-final defeat four years ago have still not healed. The All Blacks have confronted that night, many have even gone back in recent weeks to review the video for the first time and they have tried to process their emotions into some kind of useable energy source.
This week is not like any other test week. Mentally, the All Blacks are a team on edge - conscious of the significance of Saturday's game in both the immediate and wider context. Victory will all but secure the top spot in Pool A while it will also expunge some demons that have taken residence in some heads.
"I can remember in sitting in the stands and when there was a couple of minutes to go I thought that was that - we were probably going to lose,'' recalled Ellis of his memories of the World Cup game with France in 2007.
"I can remember thinking that I hoped that wasn't going to be it; that I wanted to have another crack and here we are four years on and we are playing France.''
While the All Blacks have played France twice since _ losing in Carisbrook and winning in Marseille - there is an acceptance that Saturday night's game will be a different beast in terms of intensity and pressure. Beating France comprehensively two years ago in Marseille was important and welcomed but it didn't provide a sense of revenge. That will have to wait until Saturday night and quite how hard it will be to achieve has been the theme of the preparation.
The Irish provided a timely reminder with their win against Australia that World Cups tend to run against the tide. World rankings are by no means accurate in determining who starts as favourites because it's impossible to assess the impact emotion makes.
Ireland brought extraordinary passion to Eden Park and that kept them in the game and eventually made all the difference. The French are expected to do much the same which will give them an element of unpredictability.
Selecting halfback Morgan Parra at first five will add to the intrigue. He's a talented operator and will give the French a distribution channel that will better enable them to play a wide game.
A rising chorus has been chirping for Piri Weepu to be pushed in a similar direction with the All Blacks - and be used as back-up to Dan Carter. The 28-year-old, though, remains a little sceptical about his ability to make that conversion at test level. He's happy playing Super Rugby at No 10 but still feels nervous at the thought of being there in a test.
Some may feel he's a better option than Colin Slade but Weepu doesn't agree. "I wouldn't say I'm climbing the pecking order,'' said Weepu. "I felt pretty nervous going into that game against South Africa [in Port Elizabeth where he was the back-up first five]. I think your decision making has to be sharper and you can't make half-hearted decisions.''
For now it seems like the selectors will resist the temptation to entrust Weepu with the added responsibility of being sole cover at first five. The clash against France is not the place to experiment.
The only goals on Saturday are victory and revenge because as Ellis so nearly agreed - this is a grudge match.
- HERALD ON SUNDAY